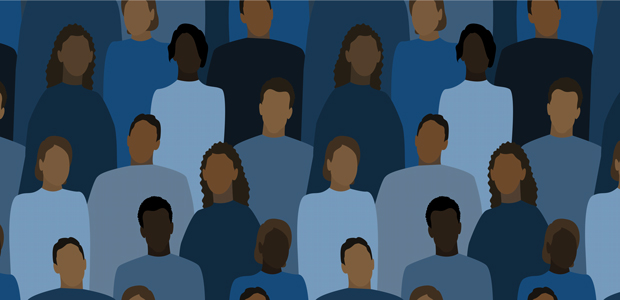 Black Tech (has always) Mattered
In the weeks following the brutal murder of George Floyd and the global protests it sparked, we saw hundreds of companies posting a black square on social media as part of #BlackOutTuesday - an outward display of support and solidarity to the Black Lives Matter movement and the black community.
However, despite the positive sentiment of this solidarity, #BlackOutTuesday was widely criticised. Because a message of solidarity is just that- a message. It became yet another piece of social media fodder, where companies could put up a tweet, collect internet karma and avoid actually doing anything.
Similar issues appear every pride month, where some companies change their logo to a pride flag despite only having a skin-deep directive towards the inclusion of those communities.
The protests called for action on addressing structural racism and the response was a sea of black square pixels. We need more.
I wasn't originally planning to write about this because I didn't feel qualified, and I was apprehensive about saying something wrong, or inadvertently offending.
However, after doing a lot of listening and reading over the past few weeks, I've realised that we mustn't let this fear of "getting it wrong" stop us from having the conversation, because it's the absence of a society-wide conversation that's a huge part of the problem. In that same way that "you cannot be, what you cannot see", it's very hard to fix what you're afraid to discuss.
OLIO is now a global community of over two million people, and "inclusive" is our number one value (the others are resourceful, caring & ambitious). With this comes great opportunity — to build a brilliantly diverse and strong business — but also, an equally great responsibility to make sure that we're really walking the talk.
With that in mind, I wrote a manifesto for OLIO on where we can improve and make genuine inroads into addressing racial inequality. Making these actions public serves two functions: Firstly, it ensures that OLIO, particularly myself, can be held accountable further down the line. Secondly, I hope leaders in the tech world will see this and, if they haven't already, look deeply at their own organisations and produce their own manifestos.
The OLIO manifesto outlines where we can improve, and identifies actions we can take to do this. And because it's important to identify progress that has already been made, it also highlights areas where we think we're doing well and would like to build on.
The OLIO Manifesto
We don't have enough ethnic diversity in our team

. It seems we're not alone in this — 

a 2019 study

 by the Evening Standard found that only 3% of the technology industry's employees in London are black, whilst black people make up 13% of the population in the city. And 

a 2018 study

 found that "environment professionals" are the second least ethnically diverse profession in the UK. To harness the full potential of tech, and to solve the climate crisis we need to solve the racism crisis, period. ACTION: actively reach out to under-represented communities when recruiting, rather than just recruiting from the people who apply to us.

We suspect (but don't know for sure) that we don't have enough socio-economic diversity in our team

either. We also don't have team members with physical disabilities. ACTION: measure socio-economic diversity of OLIO staff and do outbound recruitment to under-represented communities.

We don't have any quantitative data on the diversity of our community, as the sources we use only provide gender & age

. ACTION: measure multiple diversity metrics amongst our community and volunteer base. Then we adjust our marketing outreach on the basis of what we discover.

We don't have a framework for assessing our comms to ensure that diversity is properly represented

. We need to do more to ensure that voices of colour, in particular, are showcased. ACTION: craft a framework to ensure that diversity really is in the DNA of our comms and do more showcasing pieces 

like this

.

We don't do a good enough job of using our platform to explain why the climate crisis, the racism crisis and the poverty crisis 

are all interlinked

. A big reason why there's been so little climate action, is because the impact of the climate crisis is 

felt most by people of colour

, and people living in poverty. For these communities, the climate crisis isn't an abstract thing in the distant future, as so many privileged white people tend to believe — it's wreaking havoc to lives and livelihoods right here, right now. ACTION: highlight the intersectionality of racism and the climate crisis in our newsletters & on social media.

We need to move beyond our current position which is that "we're not racist" to the more proactive position of being "anti-racist"

and use this as a guiding principle in all we do. ACTION: circulate anti-racist reading materials to the OLIO team. Ensure we have regular conversations so that it stays top of mind. Ensure we embed diversity training as we scale to create a culture where we all continue to listen, explore and learn what being "anti-racist" means in practice.
Above are the aspects that we know we can improve on but it's worth highlighting some of the things that we do do well and that we want to continue to build on:
Our team

: we have incredible gender diversity, age diversity, diversity of sexual orientation, neurodiversity and diversity of nationalities (

18 nationalities in a team of 27!

). I believe that our 

remote-first operating model

 has been critical to enabling us to achieve this.

Our community

: we're constantly amazed at the breadth of diversity in our community. OLIOers really do come from all walks of life, and that's part of its magic. An OLIOer called Suzanne shared this in the Forum which sums it up beautifully: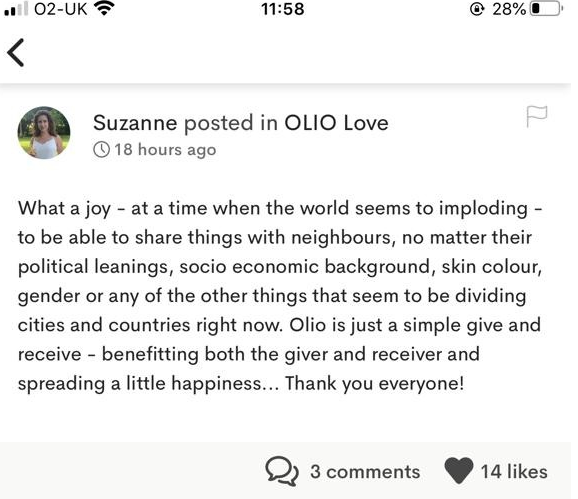 Our product/platform

 — We have a zero-tolerance approach to racist behaviour on the app, and any time we've experienced it — so far as I'm aware — we've banned users from the platform. We've also been very intentional about how we approach personal identification on the app (e.g. we don't insist upon personal profile photos) as we've learned a lot from 

Airbnb's experience of conscious/unconscious racism 

slipping in.

Our comms

 — From the 

very first animation

 that we created about OLIO, to our 

recent celebration of hitting the 2 million users

 milestone, we've tried to ensure we have ethnic diversity in our comms.

Our time

 — My Co-founder Saasha and I always prioritise giving time to mentoring diverse founders, as their success will be society's success. We also have a company policy of limitless paid holiday and so actively encourage team members to participate in activism on the streets whenever they can.
What you can do
Whether you're a CEO or a founder, I encourage you to make your own manifesto. There will be no one-size fits all approach to tackling racism, and so each company needs to develop its own.
In three months' time, I will publish an update against each and every action I have outlined above, and I encourage you to do the same.
Take an objective look at your company, talk to your team members about what they think. Focus on discussions that allow open thought and involvement. With these, in time, we can make the start-up community a bastion of diversity and opportunity.
You needn't be afraid to be wrong, but we should all be afraid of not doing anything.
(P.S I'd like to thank my great friend Buki for this brilliant headline.)