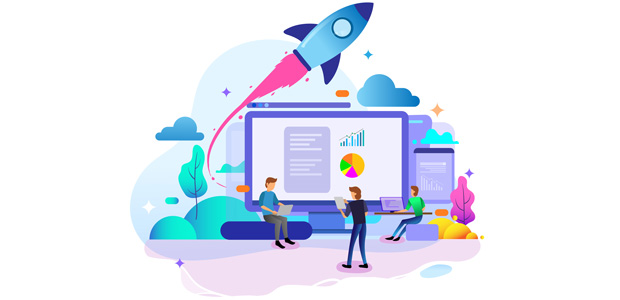 Be the Master of Marketing Your Business with these 6 Online Strategies
Did you know that 14% of startups fail because of a poor marketing strategy? When you start a business with limited resources, you want to make sure that you're not wasting any of your resources. 
Getting sales has never been easy, and it is only getting harder. If you're not actively marketing your business, you're missing out on potential opportunities to drive sales and grow your business. You can hire an in-house marketing team, but it can be costly and may not be a feasible choice for a new business owner. 
Here are six timeless online marketing strategies that you can implement by yourself to give your business a much-needed boost. 
Content Marketing 
Content drives the internet. Everything you see online - blog posts, videos, images, infographics, social media posts, etc. - is content. Content marketing is a marketing strategy that focuses on strategically creating and sharing content to provide valuable information to the consumer and stimulate interest in a product or service. 
It's a cost-effective marketing strategy that any business can easily implement. All you need to do is create helpful, informative, and original content and share it with your potential customers. 
Pick a few channels where your consumers are active such as blogging, guest blogging, video creation and marketing, and podcasts. 
Different content formats for different platforms work well. Infographic contents are the one that can be shared across various platforms, and it holds the reader's interest. Several healthcare brands use infographic content to educate their visitors by sharing content on websites, social media channels and even helpful banners to educate them about the importance of safety and precaution. Businesses do not have to invest many resources in designing one, as marketers create infographics online without much effort.
Picking the proper channels for content marketing is a critical decision. New business owners should begin with blogging, as it's the easiest to execute. Later, you can include social media and video. 
If you want to reach an offline audience, QR codes can get the job done for you. You can create a QR code with a QR Code Generator and put it up on your product packaging. 
Link the QR codes to helpful information or interesting content. Customers can scan the QR codes using a smartphone to access the content. This way, you can easily deliver content to your offline audiences. 
Search Engine Optimisation
If you're acquainted with the fundamentals of marketing, you must've heard of Search Engine Optimisation (SEO). It's the process of optimising your website to rank higher on Search Engine Results Pages (SERPs). And since 70-80% of consumers search for a business online, ranking higher on SERPs should be the priority for any business owner. 
Search engine optimisation is further categorised into:
Keyword research

On-page SEO

Off-page SEO

Technical SEO
Though some advanced SEO techniques may require expert assistance, you can leverage basic SEO tactics, such as keyword research and SEO writing, by yourself. 
Email Marketing
Email marketing is an evergreen marketing strategy that has been out there since the 1970s. Since then, companies of all types, sizes, and industries have been using email marketing to increase brand awareness, nurture leads, and drive sales. Email marketing can drive a return-on-investment (ROI) of about $42 for every $1 spent, when done correctly.. 
To get started, you'll need to first develop an email list of subscribers. You can do that by including a sign-up form on your website, asking the visitors to subscribe to your email list. You can also offer freebies like eBooks and free courses in exchange for the email address. 
Once you have their email addresses, you can start sending them emails regularly. Ensure that your emails are helpful and interesting instead of pushing the reader to make a purchase. Share useful information, industry news, interesting content, etc. And once in a while, you can promote your products and services. 
Social Media Marketing
Social media marketing is another well-known online marketing strategy used by most brands. In fact, 73% of marketers consider social media marketing to be effective. It's a time-tested way to communicate with your existing and potential customers. 
Social media provides two major business benefits:
Reach a broader audience and increase brand visibility and awareness

Engage your consumers on a personal level and turn them into loyal customers
The first step of a social media marketing strategy is choosing the right channel. There are dozens of social media platforms out there, and not all of them are the same. For example, Gen Z and millennials might hang out on Instagram and Snapchat, while older individuals may prefer Facebook or LinkedIn. 
Paid Advertising
Paid advertising is another age-old marketing strategy that still works. Back in the day, when the internet didn't exist, brands would put up billboards and give ads in newspapers and magazines to reach their target customers. While various brands still use these strategies, online advertising has become the norm. 
Online advertising is of various types, such as search engine advertising, display advertising, social media advertising, podcast advertising, and more. You can decide which approach works the best for you based on your target audience. 
Conversion Rate Optimisation
If you're getting tons of traffic but no sales, you need to optimise your website to increase conversions. This process is called Conversion Rate Optimisation (CRO). 
CRO focuses on making your website user-friendly and engaging to encourage the visitor to take action. For example, if the Call-To-Action (CTA) on your landing page is simple text, you can change it to a big, coloured, and clickable button and see if it gets more clicks. 
Similarly, if people are visiting your landing page but not reading it till the end, your landing page copy might require an overhaul. 
Several factors affect your website's conversion rate, and CRO is all about working on those factors to drive more conversions. 
Wrap Up
Internet marketing strategies come and go, but some are timeless and will continue to perform well in the years to come. If implemented correctly, the strategies discussed above can give an essential boost to your business in terms of visibility, lead generation, and sales. And most importantly, they're easy to implement. You can leverage them without any marketing tools or external help.