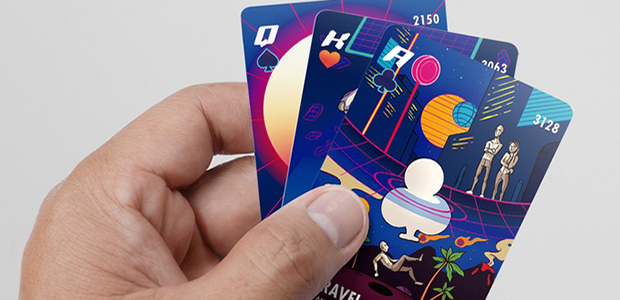 AR playing cards explore American history and digital futures
The crowdfunding campaign for Augmented America, a pair of augmented reality playing card decks inspired by the history and future of the US, is continuing with more than 60% of the initial goal of $7,500 achieved in the first 48 hours.
Curated by history professors across the US, each card in the History deck and Future deck is beautifully illustrated with graphics by Peruvian designer Nathaniel Rueda, and incorporates AR layers, accessed through a complimentary app, that allow players to navigate through curated information and footage exploring the historical or futures-oriented subjects depicted.
The Kickstarter campaign is a call for pledges to bring the creative project to life by funding initial production costs. In exchange of their support, backers will receive the decks at a discounted price, whilst getting an inside look at the creative process. With pledges ranging from $3 to $272, backers can visit this link to back Augmented America until 11th November.
Augmented America card decks are suitable for any card game. The playing cards encourage participants of any age to interact with key milestones in American cultural, political and economic history and engage with future scenarios for technology and society. The History pack covers key leading figures and events contributing to America as we know it today, while the Future deck sets out and explains a variety of visionary scenarios for the near and distant future.
Historic milestones and key figures range from the Declaration of Independence to the Apollo 11 Mission, taking in inspiring individuals such as Rosa Parks, Elvis, Ella Fitzgerald and Johnny 'Golden Arm' Unitas. The Future pack illustrates a range of positive scenarios including the end of waste, the achievement of salary equality and self-driving cars.
The deck cards will be produced by the United States Playing Card Company. Printed with the standard four colour technique, the cards will have custom back and face cards and will be made of classic paper with a linen finish and cello wrap.
Povilas Daknys, Founder of Augmented America, commented: "We are delighted to be launching Augmented America at this crucial moment in the history of the USA. The project highlights the importance of collectively reviewing our past, while emphasising the need for careful consideration of our shared future. With these two packs, History and Future, we aim to make history and the digital era accessible while providing a new and fun educational resource."