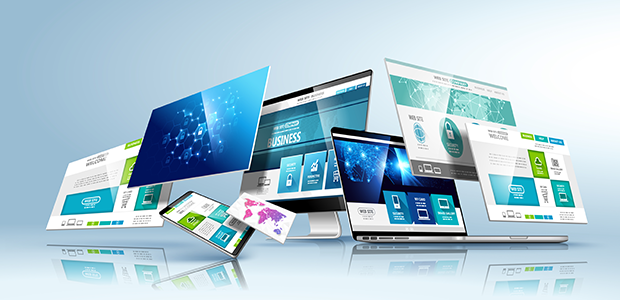 9 signs that say it's time for a website redesign
Whether you're selling remote work software or industrial supplies, a well-designed site is essential to driving new leads and sales. But any good site is being updated constantly, how do you know yours is the best it can be?
If your business is being let down by a poorly-designed website, you'll see low conversion rates – visitors engaging with your website in desirable ways – and poor sales overall. Here are nine signs it's time for a website redesign, and how you can start fixing them.
1. It's not optimised for SEO
Is your site targeted towards the terms your customers are searching? The key question here is, would they be able to find your website easily by searching relevant terms like "small warehouse automation" or "inventory tracking software"?
If you're not thinking about SEO, you're not alone – 57% of American businesses still aren't, even in 2022. There's no better time than the present to integrate SEO considerations into your site's structure.
Almost any digital marketer will tell you that most of any given site's traffic comes from Google. Google's search engine dominates the worldwide market share at almost 93% in 2022. 
There's a whole SEO industry whose only goal is to get your business ranking well on Google for your target keywords. With 50% of users never clicking below the second search result, you want to be number one. Luckily, you don't need to make a huge investment to hit one of those top two spots.
Think of the terms your target audience will be searching for in Google, like "specialty coffee shop Bristol" or "warehouse automation 2022". Include those keywords in your h1 and h2 headings and write blog posts to act as magnets for those searches. The more specific they are to your buyer persona, the better.
2. It's not getting conversions
If you're getting a decent number of visits to your website but low sales, you're suffering from a low conversion rate.
This could be caused by any number of things. Ask yourself:
If you were looking to buy a product from your site, how many clicks would it take? Aim for three.

What are your main conversion goals? Is it buying a product? Booking a sales call? And are there very clear call-to-action buttons to take those actions?
Do your conversions vary by region? If so, your site might need some global localisation.
3. You need an expert for everything
Can you quickly make changes to your site's functionality? Could you make up a new page in the next five minutes? Change the way users navigate through the site?
If you need an in-house or freelance web developer to handle these routine tasks, you have a problem. At the rate your business needs to adapt to survive, you have to be able to make changes to your site in an instant.
The quickest way to solve this is with a user-friendly Content Management System (CMS) like WordPress. But in the long term, you or the marketing team could spend some time learning enough HTML and CSS to make simple adjustments to the code. That'll enable you to create a site more tailored to your needs than any site-builder tool.
4. Loading times drive people away
If your site takes longer than two or three seconds to load, people are going to start leaving. How long does your homepage take?
Paste your site's homepage into Google PageSpeed and see what it recommends. Any modern CMS should be doing some work to speed up your site, but be mindful of your site having too many third-party plugins. A speedy site will not only boost your conversions but help you rank higher in search results.
5. It doesn't look great on every device
More than half of all ecommerce traffic comes from mobile devices. If your site still only works well on desktop, you're losing out on more than half your potential customers from your site.
Test every user journey you can think of on every device you can find. You might find that single elements like images or specific headings can offset the whole page on small screens.
6. It's been years since your last redesign 
In ecommerce, first impressions are everything. Users are much less likely to engage with your site if they don't like the look of it. If you haven't reviewed your site's design in a few years, it's time to give it a refresh.
If you're not ready to embark on a potentially long, detailed, and pricey consultation with a design firm, site-building tools often come with plenty of good templates made in the last couple of years.
There's enough choice there for you to get something that suits you and reflects current web design trends as well as timeless design principles.
7. It's not accessible 
Your site has to be accessible. If this isn't mandated by law, as is the case in the US by the Americans with Disabilities Act, it's just good practice. Often, designers find that designing with disabilities in mind actually makes products and services better for everyone.
Does the text on your site contrast clearly against the background? Is it big enough? Do you have important text buried in images that a screen reader tool won't pick up? If you notice issues like these, it's time for a redesign.
8. It has a high bounce rate
We've talked about conversions, but if you find people are arriving at your homepage and promptly leaving, you're suffering from a high bounce rate.
This means people are coming to your site and not finding what they're looking for quickly enough. Do you know what they're looking for?
As with your SEO efforts, a strong understanding of your target market is crucial here. When it comes to your bounce rate, all the action is happening – or not happening, for that matter – on the homepage. This means if you want to improve your bounce rate, you don't have to scour the whole site for issues. 
If you know what the users want when they arrive on your site, make it as obvious as possible, as soon as possible.
9. Your marketing has changed
Any developing business in an ever-changing market will have made changes to their marketing strategy over time. Has your site kept up?
Businesses see a revenue increase of up to 23% when their brand is consistent everywhere. And a brand is more than just your logo.
Take some time to review the imagery and copy text – no muddled messaging – across your site and check it's all consistent with your businesses' current voice and offering. 
What to do next…
Once you've recognised that your site needs a redesign, the hard part is over. Seriously.
Redesigning your site, even throwing it out and starting from scratch, couldn't be easier these days. With the tools available today like site-builders and free CMS tools like WordPress, you could throw your entire site away and have a new one set up in an afternoon.