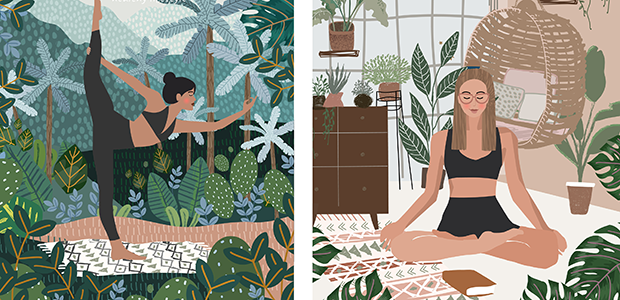 6 ways to rejuvenate spiritual wellness in the workplace
The spirit implies your psyche or soul. The act of nourishing your spirit is spiritual wellness. Our physical, mental, and behavioural health condition determines our spiritual health.
Enhancing them is vital to keep our health and well-being intact. Spiritual wellness allows us to find true meaning and purpose in life. And which further allows everyone to rejoice in life in a state of mindfulness.
Even at workplaces, spiritual soundness is crucial. Channelling your energy in any form can help reduce stress, anxiety, depression and remain focused at work. It provides you the right encouragement to work, make decisions and find fulfilment. With spiritual soundness, you can beat the best out of life. 
What has been affecting our spiritual health?
Life has many valuable things to offer us. With time, we are overlooking what is important for our overall well-being, shifting our attention to worldly possessions. 
We are becoming more attached to digital platforms than real human connections. And, by not harnessing our bond with ourselves and our environment, we have failed to enrich our spiritual wellness. 
In the era of technology, humankind is getting detached from its surroundings easily. Today, zoom and google meet have taken over conference rooms and slowly our lives. Undoubtedly, technology plays a major role in improving physical and mental well-being; but it is also responsible for various health problems. 
Only if you observe your spiritual well-being, you will be able to reconnect to the real world. It's time you value, appreciate and uncover harmony within yourself and build better connections with everything around you.
Emphasising spiritual health around the desk
People are always looking for inspiration and fulfilment. Spiritual wellness unlocks the possibility of achieving it, making one creative and resourceful. It also enhances the ability to experience and integrate meaning and purpose in life.
Dwelling in spiritualism allows you to embrace your surroundings, value relationships, and develop a true one with yourself. Our body and mind require attention to prosper and lead a well-balanced life. And, if you are a spiritual person, you will scarcely encounter rage. 
Spirit is the most undervalued facet of the 21st-century work atmosphere. However, it truly obliges one to persevere with consistency in words and action. Undermining it gives rise to problems like unproductivity, absenteeism, burnout, etc., in the work sweep. 
So, cultivating spiritual well-being is wholesome, encompassing good physical, emotional, mental, and intellectual health.
Why to promote?
According to Petchsawang and Duchon (2009), workplace spirituality or spirituality at work is defined as "having compassion towards others, experiencing a mindful inner consciousness in the pursuit of meaningful work and that enables transcendence."
The human mind is often preoccupied with mixed thoughts and emotions even while working. And as a result, it can fall victim to stress, inability, and irritability. Identifying the root cause of distress can be hard but not difficult. Inculcating spiritual wellness in the office will help employees become conscious and aware of their inner selves. 
Taking up holistic wellness programmes can refuel employee morale and subjective well-being. It will foster a mindful workspace. Besides, to create a positive and successful work environment, employers must keep their employees in overall good health. 
Importance of developing spiritual health
Strengthens workplace connections 

Encourages positive thinking by forging positive emotions

Helps apprehend the true purpose and principles of life

Nurtures mindfulness

Opens the creative blocks

Builds a compassionate working environment 

Rejuvenates emotional agility and resilience

It makes one more accountable for their responsibilities

Helps keep up with health goals like physical activities as well as diet

Improves cognitive well-being

Increases the potential to bounce back easily

Keeps the spirit high 

Helps understand the core values of life like; gratitude, integrity, recognition, finance, success, wisdom, etc.
Escape the work stress when travelling
At times, all employees need is a rejuvenating break. And, planning office team outings can beat the odds at its best. 
Travel stands as a solution to the most significant problems employees face today. Travelling refreshes the mind and brings people closer. At the same time, it is a blessing to both the company and its employees. Moreover, it enhances engagement and retention with co-worker bonding.
Mindfulness meditation to awakening
Dan Harris, the author of "10 Percent Happier," says, "mindfulness is the ability not to be yanked around by your own emotions; it can have a big impact on how you are in the workplace."
Practicing mindful meditation clears the mind, awakens and deepens our connection with the world. There are several mindfulness meditation exercises to cultivate; mindful walking, mindful eating, breathwork, sound healing, journaling, etc. 
Being bombarded with anxiety often limits our capabilities at work. Mindfulness rewards the ability to be deliberate, present, and remain in our best renditions.
Cultivating a sense of purpose through gratitude 
Gratification practices in the workplace enrich stimulation and growth.  
How often do you appreciate your employees or co-workers? Recognition and appreciation acknowledge someone's valuable and even a minute contribution to the business and the workplace culture. 
Gratefulness is the ultimate spiritual practice and holistic culture of wellness. It enhances one's proficiency to see the good and beyond. Being kind, compassionate, and grateful are essential qualities that one must preach. Besides, it contributes to employees' mental and behavioural wellness at the workplace.  
Spiritual therapies and counselling
A therapist or counsellor takes a holistic approach that helps heal a person completely. Spiritual healthiness therapy and counselling focus on the mind, body, and spirit. It is a deliberate process to encourage one to find inner peace, relaxation, calmness, and become wary.  
Such sessions help add positive fundamentals to life. To live a better personal and professional life, one must be composed, agile and robust in any situation. Employee well-being assistance programs are paramount in today's workplace scenario.
With the right corporate wellness programs, employees can mend their health and wellness path, find focus and banish negativity from their verve. Provide on-demand counselling and therapy sessions to create a great place to work whenever required.
Encourage volunteering for a happier and healthier workforce
Volunteering is not just a voluntary service but also an act of kindness. It bears the potential to leave behind many positive impacts on the giver and the receiver. 
Workplace volunteering initiatives play a key role in influencing good deeds in society. Organisations that offer volunteering services retain top talent, boost productivity, and instil a sense of purpose and meaning in employees. In some way or another, it improves employee engagement and wellness challenges.
In searching for purpose and intention in life, volunteering gives employees one to believe. Let positive actions impact the company's base and help employees achieve spiritual well-being.
Yoga for overall harmony
Yoga improves spiritual intelligence and well-being. It allows your vibrational energy flow, expanding the flexibility of the mind, body, and spirit. 
Yoga practices are the key to spiritual health, optimism, self-contentment, and lower levels of existential anxieties. Sitting in the same place all day long can be extremely harmful, so promote workplace yoga poses to minimise a sedentary lifestyle. 
Besides, it relieves tension and body aches. Seated pigeon pose, seated backbend pose, desk upward dog pose, etc, are a few poses that can soothe your mood at work.
Summing it up
Corporate wellness programs must offer spiritual wellness practices to enlighten the workspace. Organisations must harness the core values of employee wellness to soar up in the corporate competition.  
It must allow and encourage employees to treasure life objectives and work. In most businesses, spirituality is getting attention because it is cost-effective and sustainable. 
The problems created by work-life conflict can be disastrous if taken care of now and then. Creativity is the cornerstone, and lack of it can damage the workplace culture at the roots. Nurturing corporate spiritual wellness will help take swift leaps.