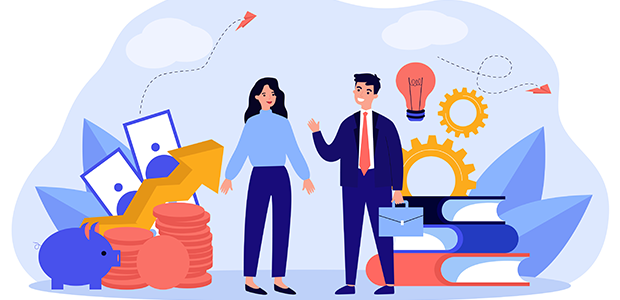 5 ways to successfully network with investors
Startup equity investment expert and Founder of Focused For Business, Hatty Fawcett, shares her top tips to network with investors as a founder and secure lasting relationships which transcend capital and business.
Whether you are a solo founder or part of a team, forming connections in your industry is imperative. Networking with investors not only helps you build relationships with those who have the capital to invest in your startup and grow your company, but it also aids your self-development as a business-owner. There are always gaps in our knowledge, which we need to fill as founders, and building relationships with investors will give you insights to grow your business and the confidence to venture into areas you hadn't previously considered. Here I share my top tips to successfully network with investors and get on the right track.
Research, Research, Research
To successfully network you need to have a solid plan. When reaching out to potential investors you don't want to speak to just anyone – or even to those who just happen to have the biggest pockets! Before networking with investors, take the time to understand who are the right investors for your business, given its current stage of development, and focus on finding these investors. There are plenty of resources available to help founders find investors but they tend to be generalist – and you need to get specific. On the Funding Accelerator programme we support founders in developing a Target Investor Profile for their startup. This is a series of questions that help you think about the sector you operate in, the stage of development your company has reached and your ambitions for growth. When you know who you are looking for, it is easier to find the right people to talk to. We even provide a list of names that meet the Target Investor Profile to get founders started with their networking.
Investors appreciate it when you have done your research thoroughly and made the effort to get to know them, their interests and investment profile. Being well prepared is the key to getting your foot in the door.
Focus on how you will both benefit from a conversation
Doing your research is one thing, but you also need to be clear about why you want to talk to an investor – and what's in it for you and the investor. You might be desperate to speak to an investor but you need to explain why they commit time to talking to you!
When thinking about what you from a conversation, I encourage to the startups I work with to think about where they are in the networking or relationship building process. When you are clear where you stand now, it's easier to work out to how to deepen your relationship for maximum affect. I use the mnemonic AIDA to help identify where you are in the relationship building process. AIDA stands for:
Attention – is the investor aware of you? What do you want them to know you for?

Interest – what information can you supply that would capture an investor's interest in what you do? For example, you might outline the traction you have achieved in your business and sell the vision for what you plan to do next.

Desire – what further information can you supply that would persuade an investor to deepen their conversation with you. Often this is about explaining "What's in it for them?"

Action – the final push to get an investor to take whatever you want. This might just be to get a meeting where you can pitch your business or, if you are some way into building a relationship it might be getting them to sign your term sheet!
When you think about networking with investors in this way, as a staged process, it becomes clearer that you need to develop a series of communications. Don't start by sending a long email telling an investor everything about your business. Instead start by finding a point of connection – a similar business they've invested in, a shared business connection or comment on something they have posted on social media. Your job is simply to gain their attention at this first stage. 
Start with your circle
When it comes to getting started, start with the people you know. Who do you know, who knows the investors you want to talk to? Tap into existing networks and connections to get introductions to investors. I encourage founders to reach out to friends, colleagues, mentors and industry experts they've worked with who are connected to the investors they want to speak to, and to ask for an introduction. Personal recommendations significantly increase the chances of getting a meeting with an investor so asking for endorsements is highly advised.
Be an active participant
Pitch competitions and demo days are another excellent opportunity for founders to showcase their products or ideas to investors. These events, designed to attract investors but also those who work with investors, are a great place to test out your pitch and see if it is doing the job of gaining the interest of investors. It's not just about winning pitch competitions, the feedback you get on your pitch is as valuable as any trophy or accolade. You'll also be raising your profile and, hopefully, building your confidence in your ability to attract investors' attention and interest. 
Leverage social media
Social media clearly has a role to play in your investor networking. Explore online platforms like LinkedIn and the Angel Investment Network, or other industry-specific forums to research and connect with the right investors. Social media can help you maintain a general level of attention with investors, but it can also be dialled up as you launch an investment round. Use direct messaging to share updates on your progress, such a new contract win or a significant uplift in customers and revenue. Your aim should be to move from the social media platform to a meeting when you can present to investors (either in real life or over Zoom).
Attend industry events and conferences
Meeting investors in person is important. Find out conferences, meetups or networking events that align with the interests of the investors you want to reach, and make an effort to attend them. Connecting with potential investors face-to-face and responding to their specific requests for information is what moves your investor networking from "Interest" to "Desire".
And having worked hard at building a relationship, the reward is "Action"! What that action is will depend on how well you have built a strong and lasting relationship with the right investors. Good luck!