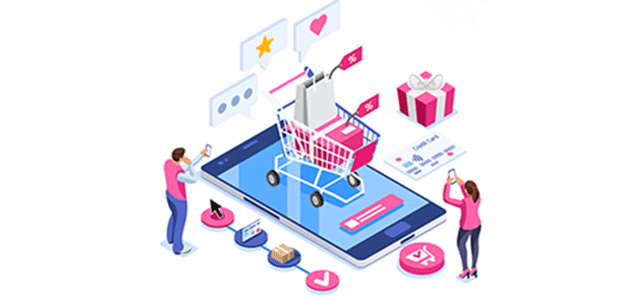 5 most common ecommerce mistakes to avoid
A study shows that 90% of ecommerce stores shut down within 120 days of their launch. While running an estore is a lucrative business, you cannot underestimate the risks associated with it.
If you're on the verge of starting an ecommerce website, prepare yourself for making mistakes. Some of them will be minor and easily fixable. But if you make the mistakes mentioned in this article, it will undoubtedly cost you a lot. 
Here, let's read these five mistakes in detail and try not to replicate them in your ecommerce setup. 
1. Having a website not optimised for mobile
We're living in a neck-down generation where people look at their tiny screens more than their laptops. The stats also reveal that 63% of the users prefer buying products from their mobile devices. This means that your ecommerce website should be optimised for mobile devices, along with desktop. 
Failure to do so can result in a distorted screen when the interested user opens your page on their mobile. It will also affect loading speed, create website cuts along the edges, and website crashes. 
Most website builders support responsive designs and automatically configure the site according to the screen size. You can check if your website is optimised by taking the Google mobile-friendly test.
Once you enter your website details, Google will point out whether or not your page is mobile-friendly. It will also determine the areas requiring your attention to make your site accessible on all devices. 
2. Not having an 'about us' page
Everybody wants to hear your story before they do business with you. Therefore, make a separate 'about us' page and let your audience learn the details of your professional and personal achievements. 
Plus, it will help them connect with your brand on an emotional level. 
When writing the page for your business, make sure to give as much information as possible about its conception. Give details about the founders, the goal of the company, and what makes you different from the competitors. 
3. Poor product images 
People are attracted to appealing photos. If the pictures on your ecommerce website are not enticing, they will not grab the user's attention. Ultimately, it will not help in your conversions, and you will fail to reach the desired revenue goal.
You can use two types of photographs in your ecommerce store: custom pictures and stock photographs.
However, it is best to use real-life, customised images of the items you are selling for product photos. If budget permits, hire a professional photographer to take shots of your products from different angles. 
Make sure the photographs are of high-definition so they can be zoomed in for details. You can also add pictures of the 'products in use' to give the audience a clear illustration of what they will be buying. 
At the same time, stock photos are ideal for banners and blog pages. They are cheaper than professional photographs and available in almost every category imaginable. 
In addition, they boast high-resolution, so you don't have to worry about them affecting the visual quality of your website. 
4. Not using social proof 
Social media has unlimited potential. If someone likes or dislikes your product and gives it a review, it will impact your sales. 
However, ecommerce website owners often ignore the power of social proof. But they don't realise that 88% of people trust online reviews as much as personal recommendations. 
Even those who are not buying your product will be sharing their reviews about why your product is not the right fit for them. This will give others an idea about your product/service and help them make a beneficial decision. 
So, give people a place to review your product. Ask for video testimonials or email them for written feedback. Once the review is posted, appreciate your customers with a 'thank you' note. 
5. Checkout issues 
So, your website is working smoothly, traffic is coming, but still, visitors are not converting into customers. A big reason for this can be shopping cart abandonment. 
Due to complex checkout processes, people often leave the website without placing an order. That's like missing the bull's eye by an inch. 
Be careful not to request too many details in your checkout form. Consumers will usually give up if they are asked to do excessive typing about non-relevant information. 
Instead, keep your checkout process straightforward. Give your customers multiple payment methods, so they do not have any problems when selecting a gateway. 
It is also a good idea not to distract customers with discount offers, promotions, etc. At this point, it is best to put your focus on letting them cross the finish line and put in an order.
Conclusion
Starting an ecommerce business is an easy task. But the process of getting orders, generating sales, and converting users into customers takes time, patience, and effort.
With time and the help of the above tips, you will find your business developing an online reputation that encourages customers to place an order without second thoughts.