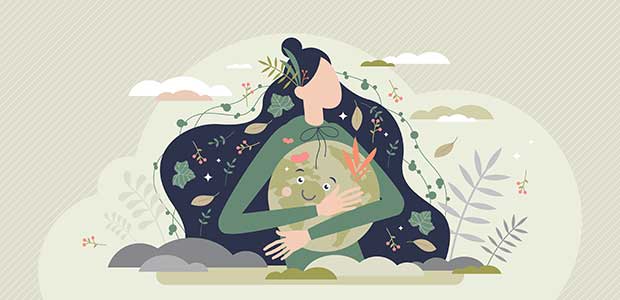 5 environmental startups that will inspire you to go green
While some countries still refrain from even admitting problems are here, human environmental impact is becoming so obvious that the world's greatest companies are taking action.
Uber is supporting their drivers to change to electric vehicles, while Microsoft promised to entirely remove their carbon footprint by 2051.
Our generation, however, has a peculiar mission. We can't afford to start with disregard towards the environment and start thinking about it subsequently as these two companies did. 
Our planet is suffering, and our mission is to be green from the very beginning. If you think this is impossible, considering the small amount of budgets startups usually set off with, think again. 
In this article, you will learn about five startups that rock at what they do, and at the same time, they integrate care and green innovations into their business practices that soothe the needs of their environment. 
What is even more impressive is that some of these startups are from impoverished countries, leaving us from the so-called 'first world countries' without any excuse that it can't be done. 
Finally, let's just remember that being sustainable isn't only being friendly towards the environment. If we want true sustainability, we should consider social responsibility altogether. 
That's because people we work with and those we work for are our resources just as plants, animals, and water, and are not unlimited, and should therefore be taken care of just like anything else that keeps our business running.
Facedrive
Facedrive is an eco-friendly version of Uber and Lyft based in Canada. They provide transportation services, however, there is a system of support to those drivers who are ready to drive electric or hybrid cars for Facedrive. 
Additionally, Facedrive takes much less percentage from drivers' earnings, only 10%, and even less if they drive an electric vehicle. In such a way, Facedrive creates a win-win situation. 
A lower fee helps drivers not only earn more but leaves them with much more money they can later invest in a car that doesn't burn fossil fuels. In turn, while people and the company are getting more money, the air gets less CO2 emission. A true example of sustainability.
Notice that it doesn't take much ingenuity to create an idea for a new startup. You can just take the already existing ones, and make them more sustainable! That's all the ingenuity we will need in the future.
The man company
Coming from India, The Man Company decided to simultaneously take care of men's beauty and environment. 
Namely, this male grooming startup offers men all types of skin and hair care products. All these products contain exclusively plant-based ingredients, raw materials and are completely paraben-free. 
But that is not all. They are strictly against animal testing and make sure all of their packaging is fully recyclable.
Of course, it would be best if the packaging was made from recycled materials, but as we said, no one here asks for perfection. The effort is genuine and obvious. 
What is important is that you can see the environmental consciousness in many aspects of their business. So, for example, the office space is almost plastic-free, and sustainability is at the core of their values and ethos.
Trulymadly
Have you ever thought about the sustainability of Tinder? Who would have thought of that! 
However, it makes sense, and TrulyMadly, the Indian equivalent of Tinder, has shown us how. 
What is big about this company is not only the trust-based scoring system they developed but their environmental consciousness as well. 
In this company, environmental effort goes far, and it does so because it comes from the top. 
The CEO of the company, Snehil Khanor, uses public transportation to come to the office. On other occasions, he comes to work with his colleagues, whom he encourages to share a car when coming to the job, instead of each coming with their individual car.
And there is more. Being well aware that their city, New Delhi, has a huge issue with fresh water, this company's office installed waterless urinals. Apart from that, there are no plastic pantries or bottles, and printing is allowed only if necessary. 
Now something truly amazing. Every now and then, the best employees are awarded in cash and, indoor plants, which the winners are expected to keep on the office desk, regularly water, and take care of! What these people do is truly madly environmentally friendly!
Fuergy
Fuergy is a business based in Slovakia, oriented towards achieving maximum energy efficiency in the future. 
At Fuergy, they developed an AI-based software (named brAIn), which connects households with solar panels for transmuting solar energy into electricity. Then, those households who produce more energy than they need can sell the extra energy to other people, through the Fuergy platform. 
This goes for individuals, but for businesses as well. 
In this amazing example of circular economy, we can see that we haven't forgotten lessons we learned during the great financial crisis from 2009. At that time, the sharing or circular economy emerged, as a social response to the deep economic crisis. 
That crisis is over, however, the circular economy remains and makes us hopeful that, the development of technology, and especially AI, can help us overcome the environmental issues waiting for us in the future. 
Sharing energy is a great idea for the future. Fuergy enables sharing not only among individual households but between businesses as well. They are relying on already existing energy grids, and are only enabling them to communicate and distribute extras through Fuergy devices.
Goterra
Founded in Australia by a female entrepreneur, Goterra takes waste management to another level.
The company provides a waste management infrastructure for clients and businesses willing to recycle their food. It is an example of the so-called modular waste management, which employs robots and insects to process the food waste into stock feed and natural fertilizer. For achieving that, this modular system uses robots filled with bugs. A truly brilliant idea.
This is great news for the tourism industry, which is blamed for huge amounts of waste, food included. 
It is suitable for processing food from many stages of production: starting with kitchen waste, pre-consumer waste, all the way to the restaurant and household waste.
Should you go green

?
Sure it would be awesome to have a green business model. But, what does it entail? How to modify your business plan and make it more environment-friendly?
We could see that green business is no longer only about a sustainable product, but about the entire lifestyle, that of an individual and that of entire companies. 
On their mission to protect our planet, startups don't wait for huge profits to become environmentally friendly. Environmentally conscious from the very beginning, they integrate sustainable practices and habits in the core of their energy-efficient business models. 
Of course, we are far from perfection. 
Sustainability doesn't always have to be a matter of great investments. Sometimes it hides in simple solutions, and our goodwill helps us identify new ways in places where we used to see only excuses. 
To wrap up
The future will have to be sustainable, otherwise, there will be no planet for our businesses to evolve. Many corporations are teaming up with non-profit organisations, through inspiring programs that support green and social startups such as WorldFair.
Therefore, more and more people behind startups want to be eco-friendly from the very start, and at every step of the way. As we could see, sustainability is a mindset before anything else, and for building a mindset you don't need any additional resources or effort.
The only necessary preconditions for going green with your future business are only good will and consciousness that we are in this together, businesses, society, natural resources and other living beings.