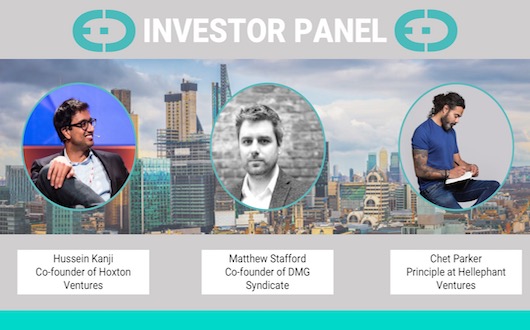 Investor Panel - Entrepreneurs Collective
Host:
Entrepreneurs Collective
Date

Tuesday,28 Jan

Location

Buzzacott, 130 Wood St, London EC2V 6DL

Time

12:30 PM

Price
Entrepreneurs Collective - Bringing Together Investors and Entrepreneurs.
Join Entrepreneurs Collective on January 28th to hear from our panel of Investors. We're honoured to be joined by an trio of investors that promises to be an exciting and insightful night for our guests. Please note ticket price also includes some light food and beer/ wine for the evening.
Our panel:
1. Venture Capitalist Hussein Kanji, Co-founder of Hoxton Ventures
Hussein has had an incredible career so far. From starting off across the pond in Silicon Valley, Hussein worked at a series of start-ups before working at Microsoft. In 2013, he co-founded Hoxton Ventures which has a market capitalisation of over £3.3billion. He's invested in an array of successful companies such as Deliveroo, cyber-security specialists Darktrace and AI data analysts Behavox.
2. Angel Matthew Stafford, Co-founder of DMG Syndicate
Matthew has been involved with start-ups since 2010. Alongside running his entrepreneur supper club called 9others, Matthew focusses on sourcing top start-ups looking for funding and providing excellent counsel. DMG prides itself on investing in entrepreneurs who are matched to their company's cause. As such, they take time to make their investments - the shortest being five months!
3. Private Investor Chet Parker, Hellephant Ventures
A strategic Robin Hood, Chet uses his investments to bring great minds together to collaborate with real value in order to help others. He's passionate about disruptive innovation, from Lyft, Neyborly, Pintrest, and Stashbee. Chet's investment focus is on the property industry, digital health and telemedicine.
Following the discussion, there will be a 30-minute networking session for you to connect with some of the best VC's and startups.
AGENDA
6:00 – 6:30 pm || Arrive and Socialise
6:30 – 6:40 pm || Opening Remarks by Michael Blakeley
6:40 – 7:20 pm || Speaker Presentation (10-15 minutes each)
7:20 – 7:40 pm || Refreshment Break
7:40 – 8:30 pm || Round Robin Speed Mentoring – Elevator Pitch, ask for assistance from your peers and give back to others.
8:30 – 8:35 pm || Closing announcements
8:35 – 9:00 pm || Attendees are welcome to stay and continue conversations
At the Entrepreneurs Collective we focus on bringing together quality Founders, Angel Investors and VC's from across the start-up eco-system. Organised by lawyer, founder, investor and advisor - Michael Blakeley - our events bring together the UK's most impressive start-ups and seasoned investors. Join us for an exciting evening and make quality connections.
Please note that the network is for full-time Founders and Investors only. If you would like to attend you may register through Eventbrite for a ticket, however, this is subject to vetting. Any questions please see our website or e-mail us.