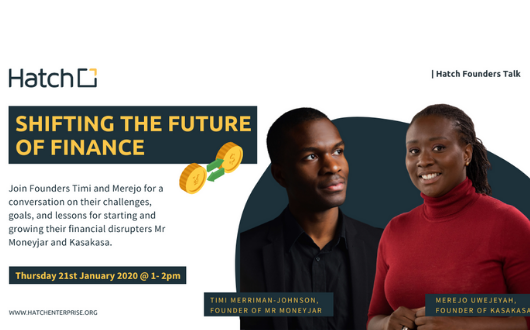 Hatch Founders Talk: Shifting the Future of Finance with Timi and Merejo
Date

Thursday,21 Jan

Location

Time

01:00 PM

Price
During this talk, you'll get to meet two impact founders, whose ground-breaking financial businesses are making positive social change.
Join in the conversation with Timi Merriman-Johnson and Merejo Uwejeyah, who will be discussing how they started and grew their businesses - Mr MoneyJar and Kasakasa.
Timi Merriman-Johnson is the founder of Mr MoneyJar, a financial education platform for people in the UK. Mr MoneyJar offers accessible, practical guidance around personal finance and investing through digital content, workshops and 1-2-1 coaching.
Merejo Uwejeyah is the founder of Kasakasa, which provides an alternative way for people in the UK (diaspora) to support the health needs of their family in Nigeria. The focus is for these people to buy affordable healthcare plans for their family at an affordable price. On average £500 is spent on hospital treatment, whilst a healthcare plan is a cheaper alternative.
This event is for you if you are looking to get some inspiration on thinking big, growing your business, and how to fight challenges on the way from those who have been there. Grab your free ticket here