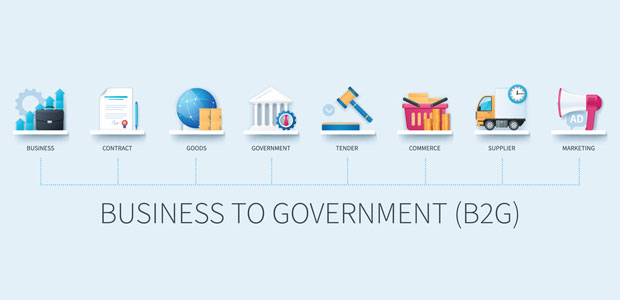 Why B2G Marketing is the Perfect Choice for Businesses in 2022
Perhaps now, more than ever before, B2G marketing is crucial. The government has committed to spending billions of pounds over the coming years in order to 'level up' and alleviate somewhat of the financial stress caused the by the ongoing pandemic, meaning there will be government contracts galore – welcome news for business owners around the country.
That said, in order to win these contracts, you first need to know what the process is: and that's where B2G marketing comes in!
What is B2G marketing?
The meaning of B2G is fairly simplistic in that it of business to government. The term is often used to refer to business to government marketing processes and strategies or public sector marketing.
But, what does it mean?
Well, B2G Marketing means the process of a private sector business marketing its products and services to government organisations such as local councils, police constabularies, the MOD, and various housing associations.
Now, this is where things get rather complicated and, in some respects, confusing. You may be wondering how does B2G marketing work if businesses need to respect relevant government procurement regulations?
Enter early engagement
The concept of early engagement with prospective buyers is not only permitted but, actively encouraged. The Government is eager to engage with the supply chain and there is growing evidence that suppliers that invest in building relationships enjoy greater success.
Then comes the task of discovering what opportunities exist and at this stage you may be thinking that the public sector has nothing in the way of relevancy to your business however, the beauty of government contracting is the fact, there is quite literally something available that suits the capabilities of every business.
Market Intelligence experts from Tracker highlighted framework opportunities as an excellent way into public sector procurement. Public sector framework agreements can help businesses become a preferred contractor.
"While framework agreements make up a relatively small proportion of contract opportunities published, they are very influential.
Frameworks are not only very valuable – sometimes their total value is estimated in the billions of pounds – but they offer opportunities to multiple suppliers to win places on the framework and, with that, potential work for several years. Frameworks are also an ideal way for new suppliers and SMEs to bring themselves to the attention of public sector buyers.
How to engage with key government decision-makers?
Is your business keen to win more business and grow with government contracting? If so, then early engagement is an essential tool to have in your armoury. By contacting public sector buyers and government employees earlier in the procurement cycle, ideally before they have published a contract notice, you stand to position yourself as an influencer and thought leader, instead of just another commercial supplier.
You will undoubtedly find that public sector business is particularly competitive. If key government decision makers have sight of what your business can offer them and you talk to buyers ahead of the official procurement process, during the scoping and preparation phase, you will position your business well and are likely to enhance your chances of success.
A successful B2G marketing strategy
Winning work in the public sector is no different to winning work in the private sector, in that your marketing strategy must involve meticulous planning that signposts your efforts. By utilising tools that support your ability to plan, you can ensure your business is adopting a more streamlined approach to business development, growth, and early engagement.
From the beginning of the pandemic the UK Government has been actively encouraging suppliers that can offer support in several areas to reach out. The Crown Commercial Service (CCS) website states that the public sector has: "received thousands of offers from suppliers across the UK to provide goods and services to the public and third sector during the coronavirus COVID-19 outbreak."
Public sector buyers want to work with innovative, reliable, and trustworthy suppliers. Early engagement can support buyers that need to carry out an accelerated procedure, where quick decisions about suppliers must be made. For a potential supplier, it is an advantage if a buyer already knows and has a relationship with your business.
When marketing to the government it is of grave importance that you are proactive as opposed to reactive.
B2G content marketing
Again, in a similar fashion to B2B, it is well known that a content marketing strategy can support a supplier to improve lead generation.
Entrepreneur and marketing expert Neil Patel highly recommends integrating content marketing into your lead generation strategy. He explained: content marketing works because you're not just attracting visitors to your site and leaving them alone to hopefully buy something. Instead, you're sending a clear message that you are attuned to their needs and ready to help solve their problems."
Through an effective content marketing strategy, you can successfully position your business as a thought leader within its industry and ultimately become a trusted voice, to which suppliers will listen to.
Your B2G content marketing strategy should be layered in the same respect as a traditional B2B or B2C approach, creating rich, value-added content at the top of the funnel and providing more product-driven content towards the bottom.
Influencer marketing for B2G
Did you know that influencer marketing content delivers 11X higher ROI than traditional forms of digital marketing? The goal of influencer marketing is advocacy; therefore, business to government needs to use this along with alternative marketing strategies.
Despite the fact this method is commonly used in the business to customer (B2C) marketplace, it works incredibly well for those working in B2G too. 90% of decision-makers initiate their purchasing process by researching opinions from industry experts and peers. The key to success in this marketplace is positioning yourself as an influencer and thought leader, instead of just another commercial supplier.
So, there you have it – a quick delve into the world of B2G marketing. While the future remains uncertain, one thing we're sure of is that public sector spending will remain high and if you're wanting to grow your business, you can do it by winning public sector contracts, fuelled by b2g marketing.