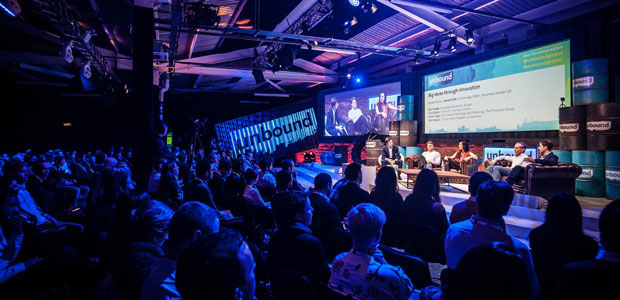 Scouting for startups
Camille Venot, Innovation Manager for Unbound, helps startups bloom from London to Miami, Singapore and Bahrain.
Venot orchestrates the startups challenges and ensures that the best startups possible come to take part in the events at the Unbound festivals, giving them the chance to exhibit and meet corporates, investors, banks, and accelerators, as well as make connections with other startups in their community. 
Venot has always been passionate about startups, moving to London from Paris to get involved in the lively startups environment thriving in London. She joined accelerator, Startupbootcamp, which provided her with invaluable insight into London startups. Venot thoroughly enjoyed being able to interact with the startups on a daily basis and seeing them grow through the help of the accelerator. Moving from challenge to challenge, Venot found herself joining Unbound, the award-winning innovation festival.
Part of Venot's job is to scout the startups for the battles at Unbound. Each battle is supported by a corporate sponsor, who outlines what they are looking for in a startup. Venot then uses that information to find suitable startups to encourage to apply for the battle, looking for events, blogs, forums, press articles and anything else that might help her locate trendy startups to take part. The Unbound startups battle winner gets a financial bump and potentially the chance to collaborate with the sponsoring corporation internally, making it an invaluable opportunity. 
Unbound hosts festivals in a number of cities, giving Venot the chance to compare the different startups communities in each location, observing that while London is a lively, friendly environment, the smaller ecosystem in Miami allows the startups to really know each other and become something akin to a family; something Venot is extremely fond of. 
When Unbound expanded out to Bahrain, they were met with excitement and startups poured in from all over the Middle East to participate. Venot made it her mission to locate as many female founders as she could find in the Middle East and held a panel with these women, giving them much needed exposure and a chance to voice their inspiring stories. According to Venot, currently there are only about ten female founded startups in the Middle East, but she hopes this will grow and that many more will emerge.
As well as an overarching passion for startups, Venot has done huge amount of work for female founders and female run startups in particular, such as her work in Bahrain. Venot created the Female Founders Challenge, ensuring that there is a good amount of females founders exhibiting and does everything she can to spotlight female founders during unbound events. 
Furthering her work with women, Venot and four friends run the French Curiosity Club (FCC). Launched in Paris by Venot's friend, Margaux Hammer, the FCC sets up events for women, each in a different venue with a different female speaker to talk for half an hour and share their story. The FCC prides itself on the diversity of its speakers, having had speakers ranging from a ballerina to a soldier come to share their story. The meetups are run entirely not-for-profit, simply from a desire to join together inspiring women and build a steadfast female community.