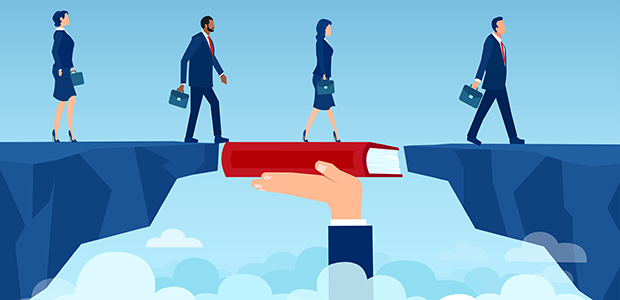 Navigating the post-Brexit UK-EU trade relationship and addressing the skills gap
The new post-Brexit UK-EU trade relationship is having a big impact on companies across all sectors and localities, with new procedures, customs controls and added layers of bureaucracy rendering many business models unsustainable.
In fact, according to a recent survey, nearly a third of British businesses that trade with the EU have experienced a decline in business since post-Brexit regulations came into play at the start of the year. As a result, one in three medium-sized businesses are going to have to overhaul their operations to navigate the new UK-EU trade relationship.
However, SMEs are struggling to adjust to the new regulations as they do not have the resources needed to address these additional barriers, especially at a time when they are already feeling the pressure from the pandemic.
To add to this challenging scenario, the UK's departure from the EU single market and the end to freedom of movement has exacerbated a skills shortage in the UK, with two in five organisations struggling to fill job vacancies. As a consequence, the country could face two years of labour shortages.
Where do the UK's SMEs go from here?
Some UK businesses have chosen to localise their operations due to rising costs and red tape around importing and exporting procedures with the bloc. Others have responded to the new trade relationship by moving operations across the English Channel in order to carry on serving the European Market.
Addressing the nations burgeoning skills gap arguably needs to be front and centre of any government-led private sector initiatives. UK SMEs have demonstrated great resilience adjusting to the challenging economic conditions instigated by the pandemic. However, labour shortages are now severely restricting business activity and could have a detrimental impact on the UK's long-term economic recovery.
Unfortunately, there is no 'quick fix'. Job seekers cannot be re-trained for skilled roles overnight and there are no plans to allow EU workers who previously filled now vacant positions to return on a temporary basis. Instead, companies must now consider the importance of investing in the training and development of UK residents to plug the gap of limited access to highly skilled staff.
This requires targeted policy which not only addresses current gaps but also anticipates which skills will be needed by companies in the coming years. Digital and tech skills are key here.
When it comes to the private sector, business leaders will need to widen the scope of what they consider to be an "ideal candidate" and consider investment into upskilling programmes. They should focus on automation and embrace digital transformation projects, and cater for the type of jobs that are experiencing most demand – including IT and logistics.
Moreover, we are already seeing a number of companies increasing wages, offering to pay for additional training and even relaxing job specifications in order to attract available workers. This is understandable given how competitive the labour market has become.
However, tackling this issue shouldn't just be left to the business leaders on the front line. Government backed incentives encouraging employers to consider apprenticeships will also be crucial to open up new opportunities within the UK job market.
Ultimately, as businesses look to navigate the post-Brexit UK-EU trade relationship, they will need to adapt in different ways to ensure that their company models remain viable. However, following the end to the freedom of movement, the skills gap and weakened job security need to be addressed as a top priority.
With the Coronavirus Job Retention Scheme coming to an end just a matter of weeks ago, the hope is that a number of these workers, who all but disappeared from the labour force during the pandemic, will come as a welcomed solution and fill some of the estimated one million job vacancies currently plaguing the UK.
Only time will tell if business and the government can work together to upskill the UK's workforce and navigate the challenges created by the post-Brexit UK-EU trade relationship.
Public and private collaboration is warranted, backed by policies that effectively plug the current skills gap and plan for future gaps in the labour market over the coming years.