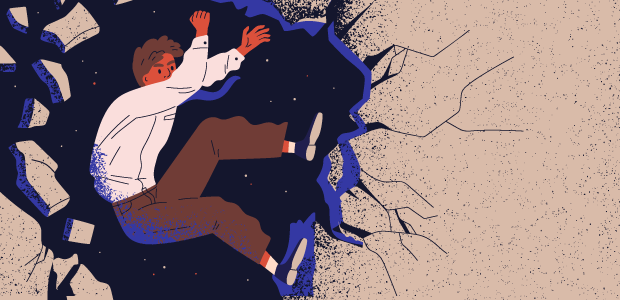 Let's stop glorifying failure
On the ScaleX stage at DTS 2019 (Dublin Tech Summit) Willie Morris got real in his talk about startup failure.
Morris is a Partner and COO of Luduss, a company which invests time, resources and capital in external businesses it believes in and executes against internal ideas that can have a real impact. However, he is probably more known for his successful exit from the charitable faith-based startup Faithbox, which provides monthly subscription boxes to the Christian market with devotionals, books, and products that benefit charities.
Why talk about failure?
Morris explained: "With a subscription company [Faithbox], where you are trying to deliver something new every month, failures stack up. Things happen, like sending chocolate during a random heatwave. You learn fast."
What is failure?
There are two types of failure:
Feeling like a failure.
Actually failing: falling short of our own or others expectations.
"In the startup world there is a glorification of failure," Morris said. "But the issue with that is that it's a micro-strategy to fall back on when you failure. Failure is worse then Liam Neeson in Taken, wherever you go it will find you."

In life you have failures both personal and in business, failing yourself or customers or investors, and falling short of their expectations of what they want from you.
How do we deal with it?
Mentally and emotionally
Tactically
Goals
"Write your goals down. This holds you accountable and gives you something to work towards," said Morris. "Not just your goals. Write down your team goals and customer goals - and really importantly, your investor goals. This prevents a lot of hard conversations later by doing this together up front."

When it comes to advice, Morris handed out some of his own: "As a startup, entrepreneur and a human, when someone gives you advice, think: does that piece of advice map towards what I want to achieve?"

Morris explained that during the entrepreneurial journey, there a lot of peaks and valleys and the air at the top of the mountain is thin - it's hard to stay there - and the valleys are hard to get out of: "Figure out what habits make you happy and practice these. Remind yourself why you're going up that mountain in the first place."
You are better at creative problem solving when you are not staring the problem directly in the face.
"When you're stuck on a problem, get your mind off of it, take a walk, however counter-intuitive it may seem, it is better for your emotional health and helps you to solve the problem."
Lightening Round
Don't complain: "Don't build these neural pathways that are negative rather than seeking a positive outlook."
"Own your shit," Morris said. "It can be tough to own this, but once you figure out how to prevent mistakes happening again, then you have control."
Learn from the mistake/failure: "If you don't you will fail again. It's okay to fail as long as you learn from it.
Failure Happens
"Whether a professional athlete or up and coming construction worker you are bound to fail," state Morris. "But make these small micro-failures. Lose some battles but learn from this and win the war."

"Life is dynamic, dealing with failure comes down to practising routines that make you happy when you fail and learning from the mistakes. But no matter how much you practice things that make you happy, you will have times when you feel negative about the process, but be stubborn and persevere."
Fail as a team
Failure as a team is hard and is individualistic to how each organisation reacts. "Figure out what is motivates your team, why, why is the morale low? You can get up and give everyone a great pep talk, but for me I find being transparent is the best option, then they can share the win with you when it comes," shared Morris.

When asked about whether failure should be as celebrated as part of the work culture by Europeans, who are not as accepting of this attitude as Americans, Morris replied: "Failure is not a North Star, success is."