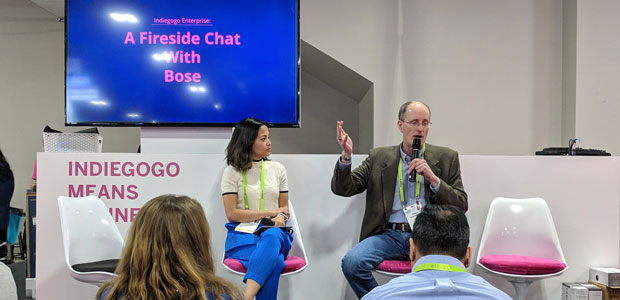 Indiegogo at CES 2019: A fireside chat with Bose
Brian Mulcahey, Category Director, Wellness at Bose Corporation, discusses the company's
breakthrough into wellness tech at 'Indiegogo Enterprise: A Fireside Chat with Bose.'
There is a consuming trend of consumer wellness products," commented Brian Mulcahey, Category Director, Wellness at Bose Corporation. Exhibiting at CES 2019 in the Eureka Park, Startups Magazine grabbed seats at the 'Indiegogo Enterprise: A Fireside Chat with Bose' to learn more about why and how the $3.8bn company, renowned for its entertainment products decided to move into uncharted territory with its noise cancelling earbuds.
"Wellness is a whole new space, it's a new category and we have the ideas and the hypotheses, but not the confidence like entertainment. We need to test, pivot and learn," said Mulcahey.
To learn more about the wellness space that the large entertainment tech company wanted to break into, Bose turned to Indiegogo to test its hypotheses that noisecancelling sleep earbuds would tackle a problem that people cared about, even if they didn't know the market yet. Bose tapped into Indiegogo's audience of early adopters, "Many of them are entrepreneurs themselves, and they wanted to help," said Mulcahey.
Bose was able to gauge the market reaction by launching 3,000 products on the crowdfunding platform and all the units sold out with no marketing in 120 hours, "That was validation number one," said Mulcahey. Once Bose validated the market need in a small way, it could work on the product vision, it could develop the right features and benefits, ensure it worked and that the corresponding software, the app, wouldn't crash. By using the Indiegogo platform and only launching a limited number of units, it was a controlled way to have a test market 'beat up' the product Mulcahey said, and provide feedback.
The feedback from this group of early adopters was invaluable, and Bose used it to fix any problems with the product before launching it at scale. "We sent each customer a personal thank you note and asked for their continued active engagement. We kept them in the loop every month as the product was being developed," Mulcahey explained.
Mulcahey offered his advice to other large companies with early stage innovation: "First and foremost, Indiegogo isn't for everyone, and it isn't for every product. We won't use it for our next Bluetooth speaker - we know that market."
Mulcahey continued, explaining that these companies should really explore the customer, the worth of the product and the quality of the opportunity. "This was a first time for Bose," he said. "There was a lot of head scratching from senior personnel, it was high risk, but if you don't take risks you're never going to move the needle."
But what about startups?
You offered advice for large companies with early stage innovation, how perhaps might your advice differ if offered to early stage tech startups trying to enter new markets?, asked Startups Magazine. "You have to take risks to be different. Just like Dr Amar Bose, our founder, said, 'It is impossible to make something better, if you don't make it different'," Mulcahey answered.