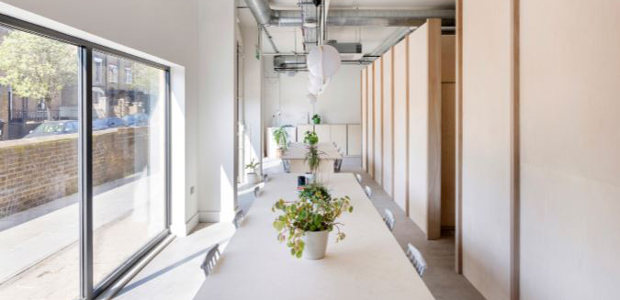 The future of work is local co-working
The role of the traditional office has been profoundly undermined by the recent pandemic - and with companies like Twitter granting employees indefinite leave to work remotely, coworking should be set to boom.  
If we've learnt one thing in the recent pandemic, it's that working from home is a poor option for anyone with young children, difficulty separating their work and life or an aversion to spending long periods of time alone. Working mothers, in particular, struggle. 
The sudden and dramatic shift in our working habits represents an opportunity for positive change. And coworking could play an important role in building a better working world. But to do so, it must adapt. The fears and interests of many people have been profoundly altered by the pandemic. And many established providers may prove too large, too centrally-located or simply too pricey for the vast majority of the new workforce.  
Enter ARC Club Homerton. A neighbourhood workplace. It's first site opens in Homerton, Hackney in Summer 2020. It is a pilot model for a new kind of human-centred remote working hub. More will follow across London in 2021.
This is how it works
Post-COVID coworking is local. ARC Club Homerton occupies a typically residential location, allowing people to 'work near home' (WNH). WNH meets the widespread desire to lose the commute and empowers members to integrate work into the fabric of their living day, at a time when many of us have had cause to reevaluate what is important.
Post-COVID coworking is community-oriented. COVID-19 has fueled a renewed appreciation of neighbourhood life. ARC Club is embracing that by helping members form meaningful connections with the places in which they live. From the neighbours they work alongside to the independent businesses it partners to the local organisations and collaborates with on events.
Post-COVID coworking is manageable. Occupying a single-storey ground-floor location, ARC Club Homerton is an easy space to navigate and run responsibly, allowing us to open with social distancing measures in place this summer. All sites will follow this model.
Post-COVID coworking is accessible. Accessibility lies at the heart of ARC Club - from the wheelchairfriendly space (catering to the large number of differently-abled solo workers) to it's competitive membership rate.The utilitarian but design-led interior and philosophy of 'not too much and not too little' makes the offering both stylish and affordable. Because in this new remote working age, coworking spaces will no longer be the preserve of the few.  
Post-COVID coworking learns from the past. At ARC Club, it is willing to admit that there are things it used to do better. It used to know the neighbours. It used to belong to the local community. It used to clock on. And clock off. At this moment of profound change, it can see an opportunity to bring into the workplace of the future some of the things it's lost.
Hannah Philp, CEO, said: "The way people work is changing but the things we need to be productive are not. Even before Covid-19, working patterns were untenable for many including freelancers, parents and anyone with a routine outside 8-8. While working remotely has its benefits, working from home presents a myriad of challenges. We believe that it's vital to have space between you and your working day and ARC Club delivers that without a long commute. Everything you need for a productive working life, just a short walk or cycle from home. Grown ups don't need ping pong tables or a beer tap to get the job done but we might need a supportive, clean and professional environment."
Caro Lundin, Creative Director, said:  "It has been challenging overseeing the finishing touches to a shared space that was planned before Covid-19 but we are fortunate that our design philosophy has always championed style without excess. Our limited material palette and restrained use of textile furnishings make it easy to maintain a safe and sanitised working environment. Whilst the flexibility of our space is ideally suited to managing occupancy. In an often over-designed category, we believe ARC Club's warm minimalism is the language of the new responsible workplace."