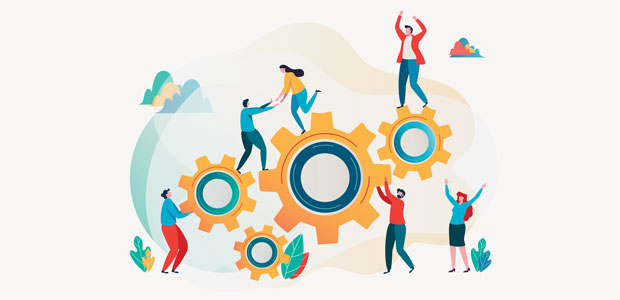 Five Unique Team Building Activities for New Startups
While hearing the term 'icebreaker' may make many employees want to run for the hills, team building is an important activity for startups to utilise.
Whether it be an activity with more of a team bonding or learning focus, each type of team building activity is designed to help colleagues build camaraderie and establish more of a company culture. 
Not only that but team building is often touted as one of the most important investments that a successful business can make. And, when you consider how much it can build trust, reduce conflict and increase collaboration, it's not really hard to see why. 
However, getting everyone on-side to take part in a team building activity can be a lot easier said than done. So, we thought we'd lend a helping hand. 
Rather than sticking to some of the more tried-and-tested (aka boring) activities, join us as we run through a few more unique ideas that will provide you with sure-fire ways to harness the benefits of team building. 
Head Out on a Treasure Hunt
While you may think that a 'treasure hunt' screams more of a kid's game than a corporate away day, you'd be greatly mistaken. 
One of the best ways to boost employee engagement, this light-hearted activity will see your staff utilising a huge range of skills throughout the day on what is described as an 'action-packed', 'fun' and 'immersive team experience' by The Secret City – a UK-based team building events co-ordinator. 
From communicating with one another as they navigate around the local area, to working together as they complete a wide array of challenges, an adult treasure hunt will provide your staff with ample opportunity to bond, develop leadership skills, build team spirit, think outside the box and enjoy a range of additional work-based benefits. So, what's not to like?! 
Support a Local Charity
Since you will have only recently started as a business yourself, it's important to network and get your name out there as soon as possible. So, why not kill two birds with one stone, by organising a team building day that will benefit your business as well as your staff?  
After identifying and reaching out to a local charity of your choosing, you could then encourage your employees to collaborate on arranging a few fundraising activities on their behalf. 
Whether it be a fundraiser sports event alongside a couple of other local businesses, or an in-office bake sale, volunteering as a team will help employees work together and bond while actively giving back to the community. 
Plus, supporting local charities has been shown to reduce stress, increase happiness and provide staff with a sense of purpose – all highly important traits when trying to create a strong company culture from the get-go. 
Organise a Games Night 
Team building activities don't have to be all day events. In fact, you may find that some of your staff would prefer to attend an event outside of work hours in a more informal environment. 
So, with this in mind, hosting an after-work games night could be a great way of allowing your colleagues to let their hair down and bond with each other away from their desks. 
Whether it be a poker night, a pub quiz or some kind of board game contest, running a games night will help invoke a fun sense of rivalry and competition between your staff – especially if there was a prize or some kind of incentive on offer. 
Plus, it could create a regular out-of-work event for your colleagues to look forward to, helping maintain employee morale both now as well as in the future. 
Host a Team Activities Day
It's important to remember that working for a startup can be a hard graft. So, why not allow your staff to escape the monotony of the office for a change, by organising a team day out. 
From high-adrenaline activities like axe throwing and go-karting to slightly more nonchalant ideas like pottery making, there are a whole host of activities available to centre your team building day around. 
The right choice for your team will really depend on the interests of your employees, so start the process off by asking them what they would like to do.  
Then, once they have decided, consider turning the day into a friendly bit of competition, by separating the employees into different teams before putting them head-to-head against each other. This will not only help stimulate a sense of teamwork and togetherness, but it will also give staff that wouldn't normally work together the chance to meet and bond. 
Host a Virtual Games Party 
In light of the fallout from the coronavirus pandemic, many startups will now find themselves with employees working from home on a regular basis. As such, it's important to think of ways that include every member of staff, including those based at home. 
Hosting an online games party is the ideal way to do exactly that. With a wide array of virtual games and activities now available from several suppliers, such as Big Potato and Jackbox Games, you'll be spoilt for choice on which games to pick. 
Whether it be a quick round of Codenames, a virtual escape room, a few icebreaker questions or a virtual murder mystery, just because your team building activity has to be online doesn't mean it has to be any less fun. 
And, what's more, it could actually do a lot more good than you might think; virtual team building has been shown to reduce feelings of isolation and loneliness in remote-based workers while helping build trust amongst colleagues reducing staff turnover. 
Conclusion
With so many plates to spin and decisions to make, life in a startup business can often feel like it's all about the work, work, work – but it's important not to forget about your staff. 
It will be them, after all, who will largely influence how successful your business is during its early stages. So, it's vital to keep their morale as high as possible both now and over the long run. 
However, by regularly utilising some of the team building ideas listed above, you will not only be able to do exactly that, but you will also continue to develop a stronger company culture as your startup grows and moves forwards