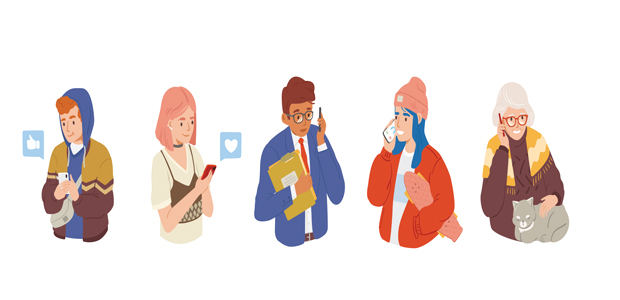 Entrepreneurs and social media: how much is too much?
Entrepreneurs: let's be honest, all of us probably spend a little too much on social media. It's easy to get lost on Twitter or on LinkedIn, scrolling through and seeing what everyone else is sharing, what is trending, and posting your updates.
Pros and cons of social media for entrepreneurs
There are many positive aspects to being on social media:
You can immerse yourself into your industry trends

You can watch your competitors, see the types of posts that they share and how they engage with their audience

And most importantly, you can analyse your target audience's behaviour. What other brands and pages are they following? What kind of content are they liking, sharing or commenting on? What are their preferred activities? All these are insights that you can use for better approaching your audience with the right marketing messages.
However, there's such a thing as spending too much time on social media. The platforms are designed to be time consuming, drawing you in to scroll forever. The most recent statistics on social media use shows that in 2020, we spend on average 2 hours and 24 minutes per person per day on social media. That's two minutes more than last year.
There's also the problem in some startups that entrepreneurs, founders, and CEOs post on social media in a way that disrupts the brand. This is the case of Tesla's superstar CEO Elon Musk, who is very active on Twitter, sharing lots of personal remarks. Musk has been criticized for getting too personal in his social media posts, often insulting others, an attitude that goes against Tesla's brand values and communication guidelines.
Not everybody has a good grasp of brand identity, or understands the look and feel or tone of voice of a brand. In social media these are key aspects for making one's brand memorable.
While it's true that founders and CEOs can help boost the brands through their very presence, as they enjoy excellent reputation, it's always preferable that the actual posting and managing of social media accounts should be done by a marketing or communications expert.
What can you do to develop a healthy brand on social media, while optimising your founders' time?
Develop a social media strategy, including objectives, themes, trends, frequency and channels of posting.

Get the buy-in of all decision-makers in your start-up regarding this strategy.

Post on their behalf. Take the burden of posting from the founder or CEO of your start-up. Make sure you understand the message they want to transmit, and shape it to the tone of voice of your brand across different social media platforms.

Set up a review process: if the founders or CEOs want to retain control of the social media management, set up a review process to ensure any communications that go out fit the brand's tone of voice.

Show results to make them feel comfortable that you are doing a good job.
One of the challenges of this plan might be that the founder or CEO doesn't want to be held to these rules. Nevertheless, this process is designed to ensure that the business is never negatively affected by their actions, which is critical as the start-up grows.
Disagree with me? Email Claire now!