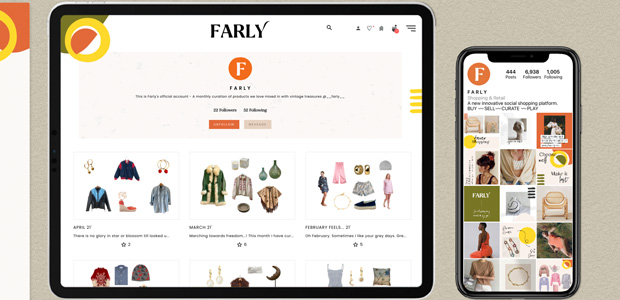 Celebrate World Bee Day the Sustainable Way with a new social marketplace
Farly is a tech marketplace aiming to solve the rise in fast fashion which is currently poisoning the environment - and instead, offers users a slow, more conscious, and exciting place to shop online.
In short, Farly is a profile-to-profile flea market that builds on the current conversations around circular and sustainability in fashion. It is a sustainable social marketplace who are a bit like Pinterest, but shoppable; a bit like Depop but more curated; and a bit like Instagram but more mindful.
And with a passion for looking after the environment, Farly will be joining others to celebrate World Bee Day, on 20th May 2021, to raise awareness of the importance of pollinators, the threats they face and their contribution to sustainable development.
Bees help contribute to the survival of our ecosystem - contributing directly to food security and are key to conserving biodiversity (source: un.org), providing medicinal benefits where honey is used in wound care and propolis in anti-bacterial/anti-fungal properties. In fact bees provide support not only to the environment and food chain, but also to humanity - making them celebrated insects! 
As part of celebrations, Farly is inviting users to create their very own 'bee-inspired' virtual shop window, so that users can curate and share the sustainable bee products that they love, for their network to discover and shop. Sellers including Beeble, who sell a bath and body range made with honey, and Bare Kind, who sell a pair of 'Save the Bees' bamboo socks offering super-soft and thermo-regulated materials, are just some of the windows selling bee-inspired products.
So, whether it is curating black/yellow pieces in windows, buying or selling bee-design clothing/jewellery, candles or skincare made from beeswax - let the imagination run free when putting windows together whilst sticking with the purpose and theme. Farly wants to let everyone do their part in supporting bees whilst also contributing to spreading the message in their own way. 
NB. Users who sign up and open their store window before Farly's official launch in September can take advantage of not paying seller fees from now until September 2021.