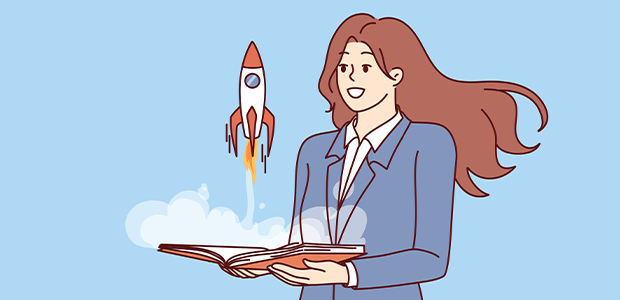 Being a female founder – pioneering sustainable growth in legal tech
When I look at the tech startup landscape today, I wonder how different my career might have been if I had been born 20 years later.
I have always had a vague notion of setting up my own business – I'm a bit of a risk-taker and I'm not sure I respond that well to authority! But when I was starting out in my career nearly 30 years ago, the startup ecosystem was essentially non-existent.  Despite the startup ecosystem now being very well-established, and there is a clearer path for women entrepreneurs to follow, funding for female founded business remains woefully behind their male counterparts.
I came to entrepreneurship relatively late, becoming a 'Female Founder Funded at Fifty' so to speak when Kuberno raised its first external capital through our Series A with Nasdaq this year. However, this later start meant I had the advantage of having a long and varied career under my belt, and all the experience and insights this entails, not least in terms of the confidence and ability to hold my own in a male-dominated industry.
Founding a company inherently involves a leap of faith, in my case, leaving a successful career as a General Counsel and Company Secretary, to step into the unknown. Thankfully, over the course of my career, I had built both a good deal of resilience and a valuable network of contacts. This strong network was instrumental in helping us secure funding from Nasdaq, as I was already on their radar as a previous customer, and could therefore pinpoint where Kuberno could add value.
In addition, my various roles in the legal and governance arena allowed me to experience first-hand the challenges and frustrations of these roles, problems which Kuberno is fine-tuned to resolve. I have always enjoyed solving problems, and it is immensely satisfying to see our initial ideas come into being, and to see the help we provide in streamlining and enhancing governance for our customers.
Life as a founder
Being a Founder can present a paradox. On the one hand, it is totally within your control to create a flexible and balanced approach to work, and on the other, the survival and success of your business can become all consuming – increasing the feeling of "perma-guilt" that many people with responsibilities outside of work can experience.
While securing funding and refining a client offer are of course the priorities for a startup, I wanted to take the opportunity to shape a business that works for its employees as well as for its customers.
While I may not have found a perfect solution to work-life balance as a founder, my co-founders and I have been keen to share the benefits of flexibility with our employees, and have a policy whereby our employees are expected to work during the core hours of 10am to 3pm, but can make up the contracted hours outside of these times in any way they see fit. This approach means we can support those who have childcare or other responsibilities beyond the workplace and has also proven to be an effective way for us to attract and retain the best talent.
A look to the future
The Nasdaq funding deal and partnership that we secured earlier this year is a game-changer for Kuberno. We now have a platform to expand our offering into the US and I'm excited to see how that unfolds.
Growth is definitely on the agenda but instead of stratospheric growth, we're focusing on growth that is sustainable, profitable and focused on delivery for customers. My sense is that the startup sector is moving away from a cult of the unicorn. My advice to other would-be female founders would therefore be to embrace this shift – a more lean approach, listening and learning, and creating sustainable growth are strengths of female founders. Some of the barriers of the past, and the more macho culture of the startup eco-system are falling away, so I would encourage female founders to take the leap as there is true opportunity to be part of the reshaping of the startup world.