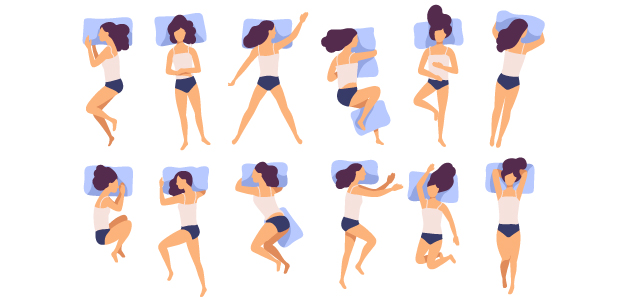 Always the cold side of the pillow
Created by two former insomniacs in 2016, Moona is the first smart product to not only track your sleep habits, but to enhance them by regulating head temperature to help the user get to sleep faster, deeper and wake up naturally.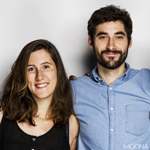 You're probably no stranger to a sleepless night of tossing and turning, kicking a foot out from under the covers, only to battle them back again from your bedfellow minutes later when it feels like you've fallen asleep next to the sun.
Well, you might be relieved to know that you're not alone, in fact according to a survey carried out by Aviva and Cencuswide in September 2017, two thirds (67%) of UK adults suffer from disrupted sleep and nearly a quarter (23%) manage no more than five hours a night.
'We believe improving sleep quality is one of the best ways to improve overall health across the world.'
The team at Moona recognised that 'temperature is key for good sleep', and referred to scientific research and medical studies which showed that temperature was more important than light and time when it came to getting a good night's sleep.
Falling asleep​: Moona cools down (around 24°C / 75°F) to decrease sleep onset time
Staying asleep​: Moona maintains cool temperatures (26°C / 79°F) to get more deep sleep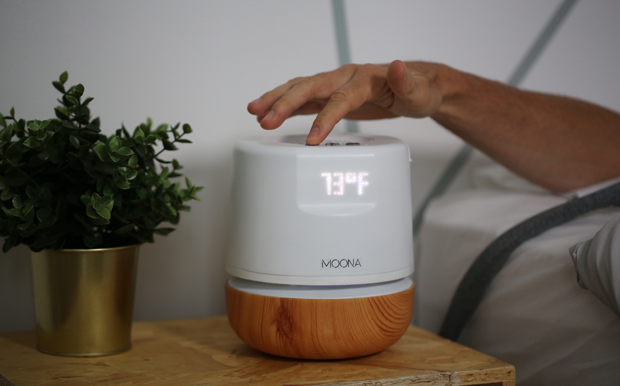 More than trying to achieve sufficient beauty sleep, the importance of a good night's sleep is more than skin deep. According to Healthline, bad sleep can be detrimental to your overall health leading to obesity, greater risk of heart disease and stroke, depression, decreased immune function and have an affect on your emotional and social interactions. By improving people's sleep habits, Moona hopes to improve their users' overall health.
Moona has three components:
Beside device​: The device continuously pumps water to the pillow pad to regulate its temperature. It has three buttons and a small LED display to turn on the system and select the desired temperature. The device contains three sensors to track the brightness level of the room, humidity and ambient temperature. It also contains the Bluetooth and WiFi chips to connect with the app.
Pillow​ pad​: A layer of plastic containing the water is surrounded by memory foam for comfort. The pad's cotton cover is ultra breathable, removable, washable and fits on all pillows. There's no electronics in the pad outside of a small motion sensor on the edge to track sleep quality.
Mobile app​:The app allows the user to select a temperature profile for the whole night and set a wake up time. It's also where Moona users can get insights on their sleep quality. A sleep coaching section helps the user learn more about sleep and adopt healthier habits.
Moona had 558 backers pledge a total of $146,072 on Kickstarter to bring the project to life and it is now accepting pre-orders.