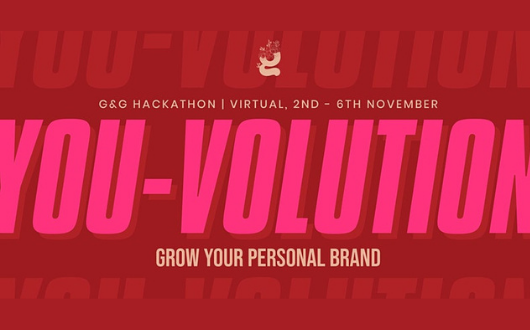 You-Volution - Online Summit To Grow Your Personal Brand
Host:
Growth & Grace Collective
Date

Monday,02 Nov

Location

Time

08:00 AM

Price
Upskill & Grow Your Personal Brand with G&G and Partners. Make real connections, join practical workshops, take home our partner goodies.
About this Event
The Mission
To run a branding summit for freelancers, entrepreneurs and flexible workers that:
You can join from anywhere
Opportunity to build new connections
Take away practical insights
Get some awesome partner goodies.
*Too busy to join us live? No problem, register now to access the recordings of the sessions and the goodie bag after the event.
⚡ Day 1: Drivers, Motivators + Community
🗓️ November 2, Monday
8am - Solidifying/embracing your why - Ewa Pietreniuk, U & Eve
12:00pm - Building a community online panel, hosted by Victoria Taylor, LinkedIn
(Panelists: Lara Sheldrake, Found & Flourish, Al Shaibani, Creative Mornings & Rotem Carmely, Clustered)
6:00pm - Telling Your Story With Grit & Resilience - Quentin Michael Allums
Live welcome session to cover the importance of a personal brand & the grit, resilience needed to have the skills to tell your 'story'.
📢 Day 2: Content, Authenticity + Self Promotion
🗓️ November 3, Tuesday
8am - Overcoming imposter syndrome- Sophie Thorne
12pm - Workshop sessions
Purposeful marketing, Flavilla Fongang, 3 Colours Rule
How to create content that resonates, Rhea Freeman, #SheMeansBusiness,
6pm - Hyping yourself, self promotion + authenticity, hosted by Alexandra Galviz, Authentic Alex
(Panelists: Anna Flockett, Startups Magazine, James Burtt, Ultimate Podcast Group & Frankie Cotton, Let's be Frank/WOT Pod)
👫 Day 3: Storytelling, Collaboration + Digital Growth
🗓️ November 4, Wednesday
8am - How I found my voice
(Candid conversation between Phoebe Dodds, Buro155 & Kim Darragon, Kim Does Marketing)
12pm - Workshop sessions:
• Photography & you: branding, building hype and personal projects,Amanda Summons, Amanda Summons Photography
• The A-Z of Growth, Emmie Faust
6pm - Founders perspectives, hosted by Lauren Malone, Enterprise Nation
(Panelists: Stephanie Melodia, Bloom Ltd, Jessica Mendoza, Monadd & Paul Armstrong, HERE/FORTH)
🎙️Day 4: Brand Voice, Side Hustles, Job Hunting + Negotiation
🗓️ November 5, Thursday
8am - How To Side Hustle + Going Beyond Your 9 - 5
(Candid conversation between Jess Gosling and Jaz Broughton)
12pm - Embracing your brand voice, extroverts + introverts (G&G X Quiet Strength)
(Panelists: Jess Gosling, Emilia Buggins and Juliette Hettema)
6pm - Negotiation, job hunting + self promotion (G&G X SheSays)
Mikaela Rice and Joyce Kremer, SheSays
☀️ Day 5: Wellbeing, Portfolio Careers + Networking
🗓️ November 6, Friday
8am - Why wellbeing matters - Katie Stockdale, Juno Space
12pm - Portfolio career top tips/cross industry/multi-hyphenate
(Panelists: Ben Legg, Digital People/The Portfolio Collective, Jess Gosling, G&G)
6pm - Closing Networking session (G&G X I LIKE NETWORKING)
Isabell Sachs
Launched By:
Growth & Grace Collective was founded with the aim to connect, inspire and empower like minded professionals.
Our aim is to:
Create a global support network for individuals
Remove the financial barriers from networking
Provide support to enhance social mobility of our network
Offer real time connections and collaborations