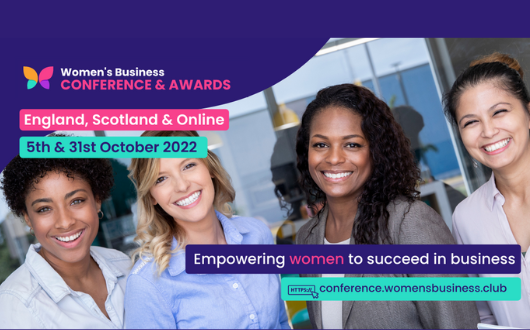 Women's Business Conference Scotland
Host:
Women's Business Club
Date

Monday,31 Oct

Location

Time

09:00 AM

Price
Be inspired and challenged with an all-female lineup of experts.
Women's Business Conference & Awards is an in-person event where dynamic female business leaders connect, world-class speakers share their expertise and exhibit with the climax of our Women's Business Awards. You and your staff are very welcome to join us. Businesses from all over England gather for a day of business networking, exhibiting, inspiring talks and a chance to explore some of their business needs. 
Spend a day working on your business and not in it – you and your business deserve it! 
"Women's Business Conference is a crucial date in my calendar! It's a non-negotiable 'must attend' for me. I always come away buzzing, with fruitful leads, and totally inspired! See you next year! Is it time yet?" – Jen Hall, Business Coach
 "Women's Business Conference is a great annual conference to be part of because of the quality of speakers, a celebration of women in business and their inspirational stories and the networking opportunities with other businesses all under one roof!" – Lucy Sherry, Thomson & Bancks Solicitors
 "I love the powerful workshops by business experts, that really inspire you to step out of your comfort zone, and give you a taste of the person you are really capable of being." – Annie Russell, Honeystone Hair