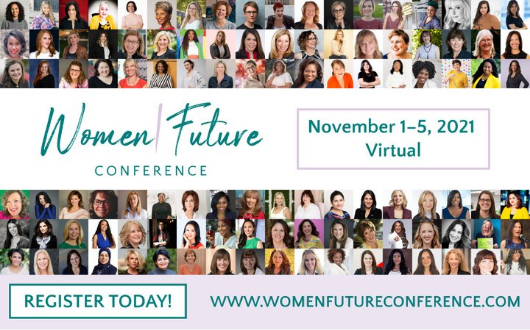 The Women|Future Conference (1 - 5 November)
Host:
The Stevie® Awards for Women in Business
Date

Monday,01 Nov

Location

Time

11:00 AM

Price

Event Price

$139 Standard Registration and $49 Student Tickets. Save 10% when groups of three (3) or more register together.
The 4th annual Women|Future Conference is a five-day virtual event happening November 1-5, 2021 for women in business and entrepreneurs
Learn, network, and be inspired by hundreds of women business leaders at the 4th annual Women|Future Conference! This five-day virtual conference for women encourages engaging connections, professional and personal development, and mental health and financial wellness through motivational keynotes, educational sessions, and networking.
With 140+ sessions on the agenda, mentorship matching, case studies from Stevie® Award winners, and a Women-Owned Business Pitch Competition, there is something for women in all stages of life that inspires action. Attendees will explore a variety of topics including work-life balance, lead generation, entrepreneurship success stories, imposter syndrome, workplace diversity, marketing tactics to future proof your business, and overcoming adversity. 
The speakers at this year's conference are a diverse mix of female CEOs, Founders, Entrepreneurs, and Executives leading organizations such as Amazon Web Services (AWS), Facebook, IBM, Infosys, John Hancock, Pinterest, Quartz, SAP, Talkspace, and others. From business professionals to aspiring entrepreneurs to executives, this evolving event features movers and shakers like you, looking to Cultivate their Tomorrow!