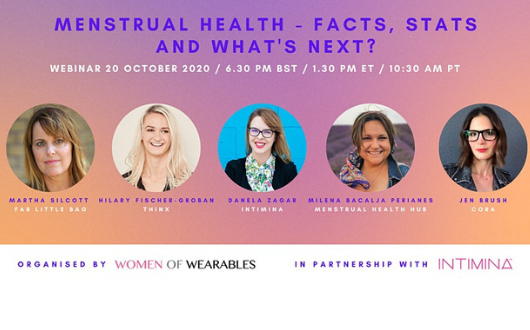 WEBINAR - Menstrual Health - Facts, Stats and What's Next?
Date

Tuesday,20 Oct

Location

Time

06:30 PM

Price
Join us for our webinar in October where we will discuss Periods & Menstrual Health, and the rise of new products in this space!
Menstruation is a natural fact of life and a monthly occurrence for the 1.8 billion girls, women, transgender men, and non-binary persons of reproductive age. Yet millions of menstruators across the world are denied the right to manage their monthly menstrual cycle in a dignified, healthy way.
We live in an era in which we opened a conversation around periods and menstrual health, but there is still progress to be made when it comes to de-stigmatizing the way we talk about or experience menstruation, and in the way, we learn about safe, sustainable menstrual health products that affect our overall health.
Menstrual health innovations have the potential to reduce the costs of products while minimizing harm to the environment. From tracking apps to menstrual cups and underwear to even one-for-one exchange programs, this market is booming with new solutions that have the potential to change the lives of millions of menstruators across the globe.
Join us for this free webinar, organised in partnership with INTIMINA, in which we will cover a wide range of topics, including:
The importance of medical research for women's health and why lack of medical data in this space is actually an opportunity for femtech businesses to build the next generation of menstrual products and services;
The importance of education about menstrual health and the products we're putting inside our bodies;
The importance of sustainability in building healthcare and hygiene products;
Why personalised support, tailored to each customer circumstances, is the way forward in the healthcare industry;
The importance of using inclusive language when talking about periods and menstruation;
How we can all fight to end period poverty;
The key trends we will witness in this sector in the upcoming years.
Join us virtually and make sure to prepare your questions for our panelists! Those who have registered for the webinar will receive a link for a video call two days prior to the event.
*** We welcome all gender identities who have experience and/or a relationship with menstruation ***
AGENDA
6:30 - Webinar starts
6.30 - 6.35 - Women of Wearables - 5-minute presentation
6.35 - 6.45 - INTIMINA - 5-minute presentation
6.45 - 8.00 - Panel discussion + Q&A
8.00 - Webinar finishes