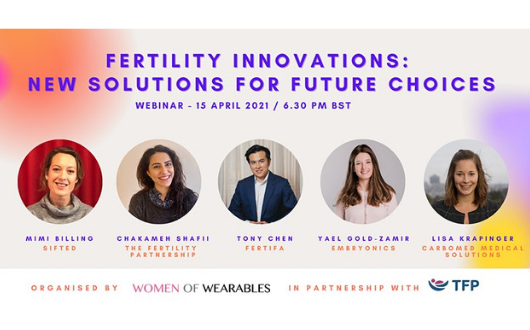 WEBINAR - Fertility Innovations: New Solutions for Future Choices
Date

Thursday,15 Apr

Location

Time

06:30 PM

Price
Join us for our FemTech webinar in April in which we will discuss the latest innovations in the fertility space!
Around 1 in 7 couples in the UK have difficulty conceiving. Fertility has become a global reproductive health issue, but it still remains a taboo. The stigma around it prevents individuals and couples from accessing information about different fertility options, fertility tracking devices, apps, or fertility treatments.
FemTech is one of the fastest-growing health industries at the moment estimated to reach $50 billion by 2025, and fertility as a sector will continue to drive the growth of the industry in 2021, according to Frost & Sullivan.
In this webinar, we will be discussing the latest innovations in the fertility space, the current challenges the industry and the patients are experiencing, how has the pandemic affected the patients and the treatments, what is the future of fertility, and what new options and trends we will be seeing in the future.
AGENDA
6:30pm - Webinar starts
6.30 - 6.35pm - Women of Wearables - 5-minute presentation
6.35 - 6.45pm - The Fertility Partnership - 5-minute presentation
6.45 - 8.00pm - Panel discussion + Q&A
8.00pm - Webinar finishes