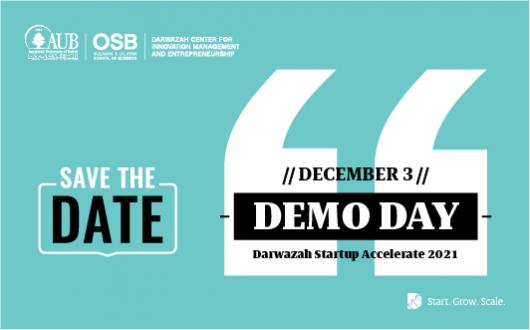 THINK GLOBAL. BUILD LOCAL. Darwazah Startup Accelerate 2021 DEMO DAY
Host:
The Darwazah Center for Innovation Management & Entrepreneurship at the American University of Beirut
Date

Friday,03 Dec

Location

Blended: Online & In person- at the Maamari Auditorium at AUB

Time

05:00 PM

Price
"THINK GLOBAL. BUILD LOCAL" is the current mission of the Darwazah Center! On the Demo Day, eight startups will compete to win the Darwazah Startup Accelerate 2021 prize, $20K, and start their entrepreneurial journey building on the Center's legacy.
For the 8th year in a row, The Darwazah Center for Innovation Management and Entrepreneurship (DC) of the Olayan School of Business (OSB) is organizing and sponsoring the Darwazah Startup Accelerate (DSAccelerate) competition for AUB active students and aspiring entrepreneurs. The purpose of the DSAccelerate is to encourage entrepreneurship and innovation amongst the youth and to engage them in tackling local pressing problems. This year, the DSAccelerate 2021 applicants were encouraged to come up with startup ideas that contribute to rebuilding the Lebanese economy by substituting imports and promoting exports, thus, to Think Global & Build Local. On the Demo Day, the DSAccelerate 2021 8 finalists will pitch their startup ideas, and two winners will receive $10,000 to start their entrepreneurial journeys.