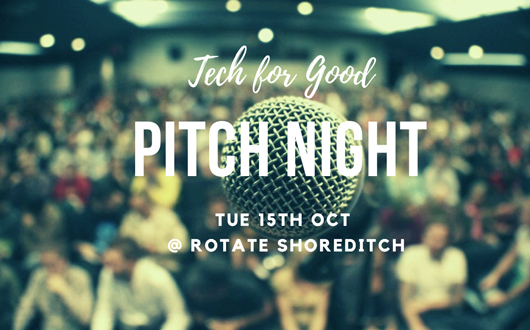 Tech For Good Pitch Nights London
Date

Tuesday,15 Oct

Location

Rotate Shoreditch, 1 Bath Place, Shoreditch, London, EC2A 3DA

Time

07:00 PM

Price
Get ready for TFG Pitch Night! With pitches from three inspiring ventures and Founder of Ketka sharing their journey - it's going to be a total treat of a night.
Ever wondered if your DNA is a precursor for what you'll be great at in a work place? Or if parents designed their children's education? What if you could change your energy consumption habits with a click of a button?
The Format
7pm - get to Rotate and get amongst £5 cocktails (thanks Rotate!!)
7.20-7.40pm - Guest Startup Ketka
7.40 - 7.50pm Pitch #1 + Q&A
7.50-8pm Pitch #2 + Q&A
8- 8.10pm Pitch #3 + Q&A
8.10-9pm Drinks, networking
About our guests Ketka
Ketka (www.ketka.co) uses interactive audio-only stories to feed big imaginations and nurture social and emotional growth in children. Recent runner up at the semi-final of the global Ed tech startup award - this startup is all about less screen time and more dream time for children.
The Venue
We are super lucky to be hosted by Rotate Shoreditch who are generously offering £5 cocktails during the event.
Rotate is a new all-day venue in the heart of Shoreditch. Speciality coffee shop by day and bar and pop up kitchen by night. Rotate curate and rotate the best up and coming food and drink brands. Perfect for your next get together!
How it works for guests
Enjoy the night and think about how you might be able to help pitching ventures reach their next step. Can you offer resources, connections, opportunities or support? Do you know someone great who can help?
We will be opening the floor for questions from the audience after each pitch. Keep your questions to the point and with a bunch of respect. Networking As well as meeting great people on the night, join the TFG Pitch Night brand new Slack channel to keep conversations going.