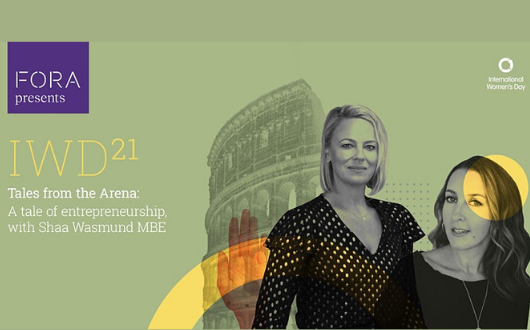 A tale of entrepreneurship with Shaa Wasmund MBE
Date

Thursday,04 Mar

Location

Time

06:00 PM

Price
What does it take to become one of Britain's most popular female entrepreneurs? Join Daisy McAndrew in conversation with Shaa Wasmund MBE.
TALES FROM THE ARENA
"It's not the critic who counts; not the man who points out how the strong man stumbles, or where the doer of deeds could have done them better. The credit belongs to the man who is actually in the arena..."
- Theodore Roosevelt,1910
The first instalment of Tales from the Arena; a series of intimate, one-to-one conversations with leaders in business, politics and media - those who are 'in the arena'. Our guests have strived valiantly, and they know what it is to fail but ultimately triumph. The series is hosted by broadcaster and commentator, Daisy McAndrew and launches with renowned entrepreneur Shaa Wasmund.
Shaa was awarded an MBE for services to business and entrepreneurship and has been recognised as one of the UK's Top 20 Most Influential Entrepreneurs by The Sunday Times. She was also voted one of the 'Most Influential Women in the UK' by the Institute of Directors.
In this session, Shaa will talk candidly about her experiences, drawing out what she has learnt, how she has surmounted obstacles and overcome the pitfalls on her climb to the top of her profession. Shaa will share her insights and advice on how to follow your path even through the rockiest of terrain.
Agenda and learning outcomes:
Tales of Shaa: highlights from her success story; her impact on the changing world of business and the lessons she has learnt along the way.
Hear and reflect upon the inspiring story of a woman paving the way in entrepreneurship.
Recognise the challenges facing female entrepreneurship in relation to COVID-19 and lockdown.
Benefits of attending the session:
Rethink what you know about high-achieving women.
Feel empowered to follow your path and achieve your goals – even when the road looks bumpy ahead.
Come away with the confidence to effect real change.