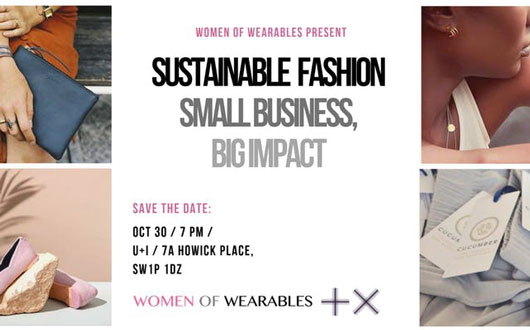 Sustainable Fashion - Small business, big impact
Date

Wednesday,30 Oct

Location

U+I, 7a Howick Place, London, SW1P 1DZ

Time

06:30 PM

Price
Join Women of Wearables for an evening of learning, sharing, connecting and discussion on all things fashion and sustainability.
According to UN Environment, the fashion industry produces 20% of global wastewater and 10% of global carbon emissions - more than all international flights and maritime shipping.
But, we have the power to do something about it. Starting with more conscious purchasing decisions and being aware of what we buy and who we support by it.
Come and meet three amazing fashion brands and their founders who will be discussing topics including:
What is the definition of sustainable fashion?
What does the future of the fashion industry look like?
Is it possible to be 100% sustainable in fashion?
How to start living a more sustainable lifestyle?
How to be more conscious about shopping habits?
What it takes to create a sustainable and ethical brand?
Whether you're interested in starting a fashion business, excited to hear the story behind a great brand, or are into living sustainably, we hope this event will inspire you to ditch fast fashion in favour of timeless pieces made by sustainable and ethical small businesses