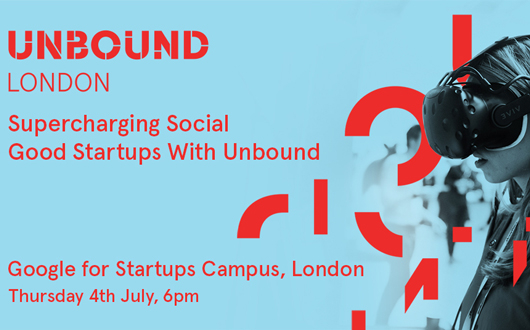 Supercharging Social Good Startups with Unbound
Date

Thursday,04 Jul

Location

Google for Startups Campus London

Time

06:00 PM

Price
Join Unbound at Google Campus London for an evening of networking, pitching and learning with investors and entrepreneurs within the Tech for Good space.
Unbound is passionate about giving startups a platform to connect with smart investors who can catapult their business to the next level. With Tech for Good as one of Unbound London's key content pillars for 2019, we're dedicated to increasing the exposure of those technologies that have the ability to solve some of the world's most pressing problems and have a positive social impact.
This event will involve a tech for good focused panel shedding light on how tech for good startups can elevate their social cause and connect with the investors who can provide the tools and funding to scale their startup. It will also discuss why investors are choosing to make impactful investments and how you can find those that are the best fit for your cause.
The evening will finish with a pitch competition for social good startups, with winners receiving free exhibition space at Unbound London as part of the Unbound50. Additionally, the winning pitch will take part in the Tech for Good Startup Battle during Unbound London, with the chance of winning a trip to Technology Innovation Pioneers (TIP) later this year with travel and accommodation covered.