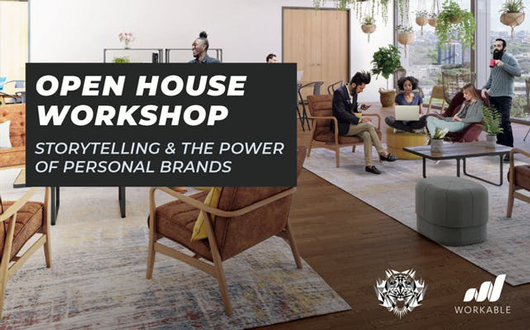 Storytelling & the power of personal brands
Date

Thursday,01 Aug

Location

Workable, Level 19, 1 Westfield Avenue, Stratford, London, E20 1HZ

Time

06:00 PM

Price
Hosted by London's newest shared workspace, Workable, Startups Magazine invites you to join us for our pop-up party. Find us on the nineteenth floor to grab a breath-taking, panoramic view of the London skyline, a glass of fizz and a seat for our workshop with Tiger Heart.
This night is open to all freelancers, startups and entrepreneurs looking to explore what their personal brand is and how they can use storytelling to tell the world whether it's clients, investors or the public eye.
Get your name on the list for an evening of:
Inspiring keynote: 'Finding your narrative' with VR (Virtual Reality) EdTech startup Musemio
Interactive storytelling workshop with Sanj Surati, Digital Atelier & Founder of Tiger Heart
Relaxed networking
Drinks & nibbles
Free print copy of Startups Magazine
A message from Workable
One day you should be enjoying the view from the top. That's why at Workable we make sure that everyone has exactly what they need to behave like successful CEOs.
You'll get all the things you'd expect from a shared workspace (except done really, really well). But you'll also have one of the best views in London, blazing fast internet, top class meeting rooms to impress your clients, break out areas for brainstorming, quiet spaces for 'you' time and a social enterprise cafe that does a blinding cup of coffee.
You'll even have access to events designed to help you grow your business. Plus, when you're finished with the hard work and are ready to play, you are already in London's hippest postcode.
It's like having your own state of the art office.
Oh, and did we mention the view?
Workable is officially launching 22nd July.
More event information on eventbrite.