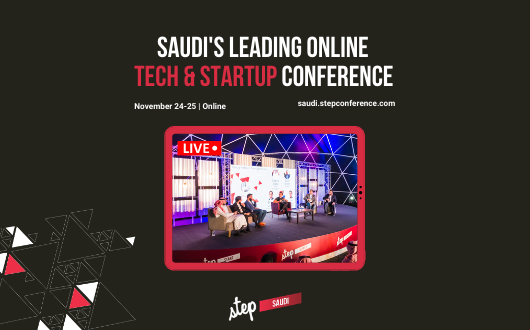 Step Saudi 2020
Date

Tuesday,24 Nov

Location

Time

01:00 PM

Price
Step Saudi is home to Saudi's best entrepreneurs, investors, creatives, and digital enthusiasts. The last edition of Step Saudi featured 4 content tracks, more than 100 startups, and 1500+ attendees. Step Saudi 2020 will be taking place virtually across 2 days on November 24-25th and will feature Step's renowned program, exhibition, startup activities, and experiences.
Step Saudi 2020, Saudi's Most Happening Conference, is taking place online this November 24-25, 2020. Startup founders, investors, digital enthusiasts, creatives and more will be attending Step Saudi 2020 with over 100 startups showcasing across Fintech, Digital Media, AI, Transport, E-commerce, and Foodtech.
60+ industry leaders and government entities are participating to tackle different topics across 4 content tracks: Step Start, Step Digital, Step X and Step Money.
The speaker line-up keeps getting richer with top speakers from the ecosystem including Salman T. Jaffrey, Chief Investment Officer at Saudi Aramco Entrepreneurship Ventures; Amal Ali Dokhan, CEO at Global Entrepreneurship Network Saudi; Dr. Abdullah Alaraj, Chairman of Board at Riyadh Angel Investors; Christopher Schreoder of Next Billion Ventures; and more.
Don't miss your chance to meet Saudi's leading entrepreneurs, investors, creatives, and digital enthusiasts online over 2 days this November.
Buy your tickets with this special 30% discount code: StartupsMagStep here https://www.xing-events.com/stepsaudi2020.html before prices increase!
This event is in Beirut Time