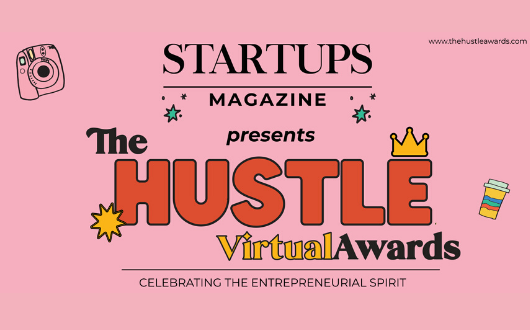 Startups Magazine Presents The Hustle Virtual Awards
Date

Thursday,13 Aug

Location

Time

06:00 PM

Price
From freelancers to startups, The Hustle Awards champions the disruptors, the fire-starters and every entrepreneur who took a leap of faith
About this Event
#hustlers #showsomehustle
Startups Magazine presents The Hustle Awards, initially intended to be an annual event at the Oval Space in Hackney, London, we have now taken the experience online with the whole month of July dedicated to our winners.
Bringing together entrepreneurs and startups to recognise their achievements & celebrate small business success, growth & change. The awards will consist of a month celebrating our winners followed by an 'Virtual Awards' hosted via eventbrite, Workcast & announced via Instagram stories alongside this.
Winners will be split into 5 weeks of July and celebrated by Startups Magazine across our platforms for each day that week.
Including;
? Monday: Winner announcement across social media linking to an interview with the winner on startupsmagazine.co.uk
? Tuesday: 5x Instagram story posts shouting about our winner & what they do
? Wednesday: Top-spot on the newsletter, our winner will be announced to our startups community
? Thursday: Promotional video or podcast about our winner to be shared with our audience
? Friday: Sending off our winner with a final push of promotion across the channels and into the weekend with a bottle of champagne & a certificate & congratulatory note from the Startups Magazine team (and our sponsors)
Winners will also receive a number of partner perks including a feature in the printed issue in the next 12 month editorial calendar & a spot on our 'Virtual Awards' Webinar on 13th August
Virtual Awards Agenda:
? 6pm: Arrival & Drinks, intro from Anna & shout-out to our sponsors
⚡️ 6.05pm: Keynote
? 6.30pm: Individual Q&A with our winners and judges
Award submissions are now open and the awards categories for the evening will be:
Virtual Event will be held using Workcast & details will be sent out from 13th July