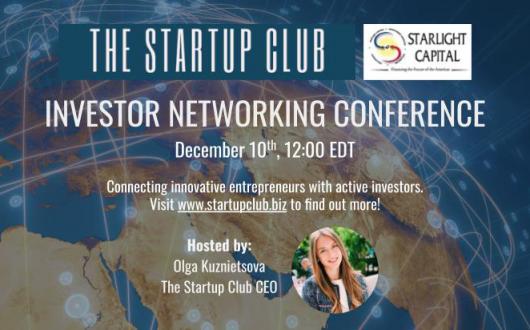 The Startup Club Investor Networking Conference
Date

Thursday,10 Dec

Location

Time

05:00 PM

Price
Are you a startup looking for funding? The Startup Club invites entrepreneurs to present at the Investor Networking Conference on December 10th, where numerous investors guests - Business Angels, High Net Worth individuals, Venture Capital firms, Private Equity funds and investment partnerships - will attend from throughout the world.
The Startup Club and Starlight Capital are pleased to invite you to our upcoming corporate presentation and investor networking forum online. Carefully selected companies will present their opportunities to and receive questions/comments from investor guests.
Agenda (EDT)
12:00 Introduction by host
12:15 Company Presentations (5 minute pitches followed by 10 minutes of Q&A each)
13:45 Adjournment /Continued informal networking online
The presenter registration fee includes all expenses (server space, technician, virtual host, hardware) related to your participation in the online event, in addition to the following:
Help in preparation for the event, provision of all materials and review of the pitch deck
Introduction to a group of investors prior to the event announcing your participation
Distribution of your pitch materials to all investors prior to the event
Presentation at the event and live Q&A interaction
Investor follow up after the event
Exposure on our social media and online community of over 70,000 member
If you are currently raising capital and need to take any of the following steps, then you should seriously consider applying to present at this event in order to:
Go outside of your existing network of contacts to find investors.
Schedule an expensive national road trip to meet capital sources.
Pay to retain an investment banker or placement agent.
Find a cost-effective proven venue to locate new investors.
Accelerate the funding process to execute your business plan.
Move-on, as you are still waiting to hear back from investors, who should have provided the funding you needed by now.
We estimate that several hundred million dollars has gone to past Presenters over recent years, much of which could be directly or indirectly attributed to our forums. Past investor event attendees included Translink Capital, Serval Ventures, Koev Brothers, Anchor Group, FasterCapital, 100X.VC, Oltre Venture, Magnivia Ventures, All Media Ventures , Italian Angels for Growth, KCG Capital, Palmetto Partners, Savoy Capital, Gallipolis Partners, Cockrell Family Partners, Gaylord Interests, Duncan Interests, Cheyenne Partners, LB Capital, Way Holdings, RD Heritage, BJW Investments, Elm Creek Partners, Duke Capital Management, Memorial Herman Investment Fund, Rushmore Investment Advisors, Southwell Partners, Tracadia Capital, Aggie Venture Partners, Houston Angel Network, Hill Country Angel Members, Dallas/Ft. Worth Angel Members, Brazos Angel Members, Texas Halo Fund, among many others.