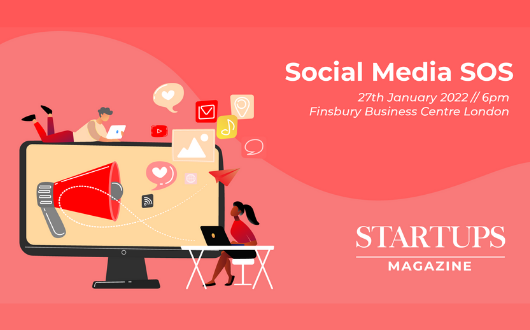 Social Media SOS
Date

Thursday,27 Jan

Location

Finsbury Business Centre, 40 Bowling Green Lane, London, GB

Time

06:00 PM

Price
Startups Magazine presents a Social Media Marketing Workshop for startups, entrepreneurs, and freelancers.
About this event
The last two years have been full of ups and downs, and most years start with new year new me, but here at Startups Magazine we thought we should kick things off for 2022 with a bang! That is why we want to bring you our bi-monthly issue event with a twist, as we cover the important topics within social media and SEO but brought to you by the experts in a workshop format.
Join us this January as we sit down, depict and really delve deep into what you can really do with social media to help your business, and look at which platforms are best for different industries.
Workshops 🎯
'SEO', 'Social Media' and 'PPC' are all very important things to know when Marketing your business - in this Social Media SOS Workshop we will specifically be looking at the following areas with experts:
👉 SEO: Getting your startup on the first page of google
👉 Social Media Marketing as a startup, who to reach and when? (Influencer marketing focus)
👉 How and when to use PPC as a part of an overall marketing strategy
Who is this workshop created for?
Entrepreneurs, startups and freelancers - whether aspiring, green or established - looking to level up their social media marketing, PPC and SEO.
What can I expect? (e.g. the crack, the low-down)
Attendees can look forward to complimentary nibbles and drinks before settling into the workshop
The workshop will be structured in a round-robin style, with spokespeople from each section delivering useful tips and advice
Relaxed conversation post-workshop with the opportunity to connect with fellow entrepreneurs
Attendees can expect to leave the event with a completed 'idea-workbook' applying the workshop's learnings to their specific business model
What should I bring?
Please bring your laptop as we will be sending out an 'idea-workbook' to every attendee to work through during the event on the day. If paper and pen is preferred printed copies will be available on the evening.
This workshop is designed to give attendees tangible and practical advice which they can apply to their specific business models right there in the moment.
Agenda
6pm: Arrival & drinks 🥂
6.30pm: Prompt start to the workshop
8.00pm: Workshop ends & relaxed conversation and drinks begins
9pm: Goodbyes 👋