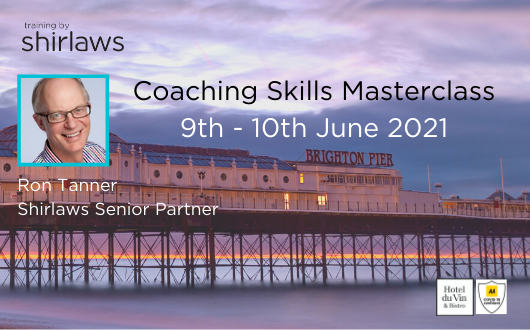 Shirlaws Coaching Skills Masterclass
Host:
Training by Shirlaws
Date

Wednesday,09 Jun

Location

Hotel du Vin Brighton (AA Covid -19 confident accreditation) 2 Ship Street Brighton BN1 1AD

Time

09:00 AM

Price
Training in how to communicate effectively using successful, proven coaching techniques.
Shirlaws Senior Partner, Ron Tanner will be delivering his masterclass in Coaching Skills, providing new concepts and skills that will elevate your business relationships.
Have you ever:
Wished you could convey your message more clearly ?
Failed to get your teams to implement your ideas?
Tried to use deadlines and other pressure techniques to have your instructions implemented?
Become frustrated, knowing you could communicate much more effectively but felt you lacked the skills to do so?
What you will learn:
A variety of coaching skills and techniques which can be drawn upon in any coaching and management situation
How to engage in and successfully lead difficult conversations
When and how to manage and coach simultaneously
A method to coach senior team members to empower staff to be more independent and take greater responsibility for their work while feeling more engaged
Specific personal interaction skills to add to your existing management capabilities