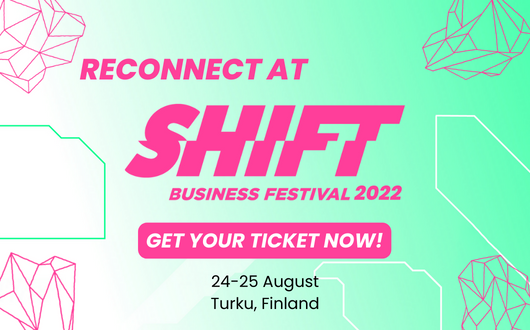 SHIFT Business Festival 2022
Host:
SHIFT Business Festival
Date

Wednesday,24 Aug

Location

Time

09:00 AM

Price

Event Price

Starting 296€
SHIFT Business Festival brings together growth-oriented businesses to set their eyes on the future. We provide insights, networks, and tools for creating future-ready businesses.
SHIFT BUSINESS FESTIVAL 2022
EMPOWERING CHANGE – TRANSFORMING THE WORLD
We are living in a world where the only certain thing is change. Rapid changes regarding technology, the environment, and society affect all aspects of our lives and the impact on businesses is undeniable.
SHIFT believes doing business as usual is not good enough and we are empowering change by providing businesses insights, networks, and tools to rethink their future.
SHIFT 2022 INVITES VISITORS TO RECONNECT AND CHALLENGE THEIR THINKING REGARDING THE FUTURE, TECHNOLOGY, AND SUSTAINABILITY.
SHIFT 2022 PROGRAM THEMES:
LEADERSHIP IN DIGITALIZED WORLD
As we are finding new ways to lead and reshape leadership for the growth in the rapidly changing world, we need to ask: what is the role of leadership in tomorrow's organizations?
CLIMATE CHANGE AND TECHNOLOGY
The climate crisis forces us to shift our thinking and find innovative ways to create solutions to secure a sustainable future for our planet and us.
Find the SHIFT 2022 speakers, event program ja ticket shop on our webite theshift.fi.