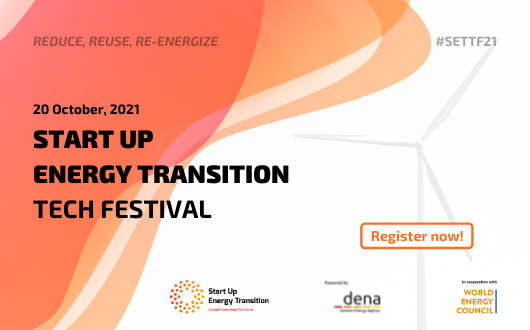 SET Tech Festival 2021
Host:
Start Up Energy Transition
Date

Wednesday,20 Oct

Location

Time

09:00 AM

Price
Start Up Energy Transition (SET), powered by the German Energy Agency (dena) in cooperation with the World Energy Council, is delighted to announce the fifth edition of the SET Tech festival. The one-day event will take place on 20 October, 2021 under the motto: #Reduce #Reuse #Reenergize! Get ready for inspiring keynotes, interactive workshops, energizing networking opportunities, exciting panel discussions, and the glorious SET Award ceremony! #SETTF21
Humankind is facing its biggest challenge ever: climate change. The latest IPCC report of August 2021 has made it clear that climate action is more urgent than ever before. What could first seem like an obstacle impossible to overcome can actually turn into immense opportunity: the opportunity to join forces and unite, to rethink business models and to restructure the way we produce and consume. Political, economic and civil stakeholders should be working hand in hand towards one goal: innovate to reduce greenhouse gas emissions drastically.
To do so, we need a fruitful and cooperative dialogue between energy start-ups, accelerators, incubators, corporates, investors and policymakers.
The SET Tech Festival is born out of this belief. Powered by the German Energy Agency (dena), in cooperation with the World Energy Council (WEC), the event will not only give participants access to the most innovative start-ups in the field of energy solutions, but will also connect them with innovation-driven corporates, investors, and public organizations looking to foster the energy transition. This year, our energy network will have the opportunity to rethink the industry through the theme of circular economy.
The day will be filled with:
Interactive workshops
Energizing networking opportunities
Exciting panel discussions
A glorious Award Ceremony where we will welcome inspiring guests from the climate and energy sector, and announce the winning start-ups of the five SET Award categories.