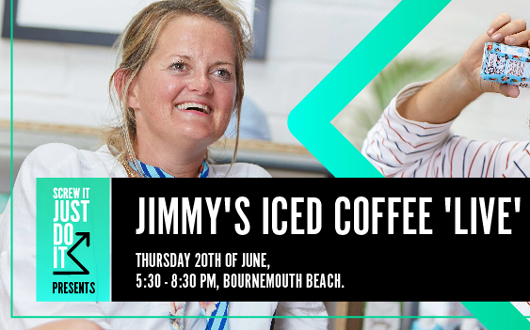 Screw it, Just Do it presents Jimmy's Iced Coffee 'live'
Date

Thursday,20 Jun

Location

Urban Garden, Exeter Crescent, Bournemouth, BH2 5AY

Time

05:30 PM

Price
Join Alex Chisnall and 'Screw it, Just Do it' for what promises to be an awesome evening with local legends Jimmy Cregan and his sister Suzie Owen - celebrating three years since they started their 'live' events back with them at Jimmy's HQ in Christchurch in 2016. They're bringing it back full circle as they launch the start of summer - and a new product - in Bournemouth this June.
Alex Chisnall, host of iTunes Top 3 podcast Screw it, Just Do it will be hosting an intimate Q&A with only 50 attendees on the beach that will be broadcast 'live' to the 110+ countries where the show is downloaded. Plus we've got some special guests in store for you too - starting with butcher turned Dragon-Slaying entrepreneur Paul Turner. Paul successfully pitched on Dragon's Den and won investment and mentoring from Peter Jones who helped Paul turn his traditional business into a nationwide success story.
What to Expect: We'll be talking about:
The importance of storytelling - not selling
Saying YES to opportunity
Innovation & Evolution
You get to ask YOUR questions on how they have built and scaled their successful businesses, including how they have gotten their products into major retailers, and also why Jim used to dress as a mermaid...
Plus Jimmys will be serving their iced coffee plus White Russian cocktails. And Paul will be serving his award-winning sausages, 'The Head Banger' in a collaboration with Iron Maiden's Trooper beer.