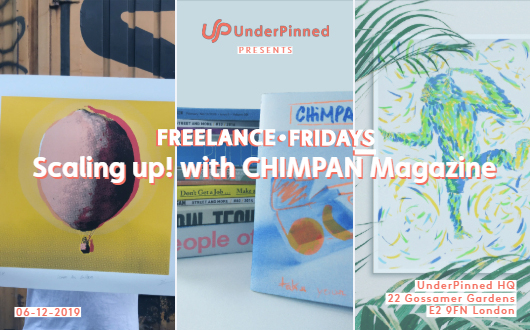 Scaling Up! CHIMPAN Magazine Launch
Date

Friday,06 Dec

Location

UnderPinned HQ, 22 Gossamer City Project, E2 9FN

Time

06:00 PM

Price
Freelance platform UnderPinned invite you to the launch of CHIMPAN, a magazine for artists and printmakers.
Freelance Platform UnderPinned loves championing freelancers and their endeavours. Zé Monteiro is a printmaker and valued member of our community, who loves all things printed, especially screen printed.
After Zé's first issue sold out in August, CHIMPAN magazine has come back in force. Whether you're growing your audience by one, or by one thousand, managing that change is one of the hardest things to do. This issue is all about scaling up your business.
We are holding a launch party at the UnderPinned HQ in Gossamer City Project, where you will hear all about CHIMPAN, its inspirations, and the artists and studios in the zine, including interviews with incredibly talented creatives such as Hedof, RUDE, Donk and Hex Prints.
Pop down, grab a drink and find out more about what it takes to make your own magazine, scale it up, and have fun with it.
About UnderPinned
UnderPinned is a one-stop career management platform that helps freelancers. From setting up and finding work to taking care of project management, billing, and managing finances, we are here to make freelancers lives easier and happier.