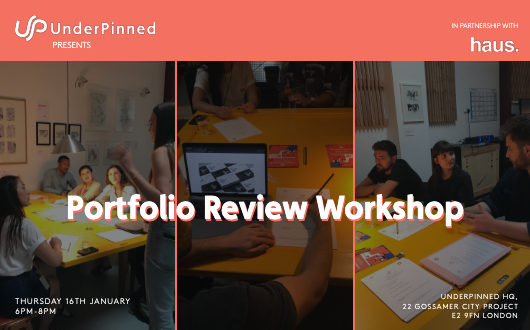 Portfolio Review Workshop: Experience Haus x UnderPinned
Date

Wednesday,16 Jan

Location

UnderPinned HQ, 22 Gossamer City Project, E2 9FN

Time

06:00 PM

Price
A team of experts from UnderPinned and Experience Haus will give you personal advice on how to improve your portfolio.
Freelance Platform UnderPinned have teamed up with Experience Haus to bring you a team of experts who will give you personal advice on how to improve your portfolio.
How will this Workshop help me?
Your portfolio plays a huge part in finding work and clients. You will:
Find out what you should include
Learn tips and tricks for standing out
See examples of great portfolios
Receive career advice from our experts
What do I bring?
Each attendee should bring their current portfolio along, which will be reviewed one on one by a member of the UX and Design team at Experience Haus, Matter of Form or UnderPinned.
About UnderPinned
UnderPinned is a one-stop career management platform every freelancer, and client hiring freelancers, needs. From setting up and finding work to taking care of project management, billing, and managing finances, we are building the infrastructure for the future of work. Every week, UnderPinned throw free London based event for freelancers, solopreneurs and anyone who's embarking on an independent professional journey, looking for career advice, a support network or to meet like-minded individuals.
About Experience Haus
Dedicated to delivering affordable education and spaces for self-improvement. Experience Haus provides applied learning courses for organisations and individuals covering an abundance of different digital expertise.
Don't miss out on the chance to build up your client basis and find more work with this portfolio workshop!