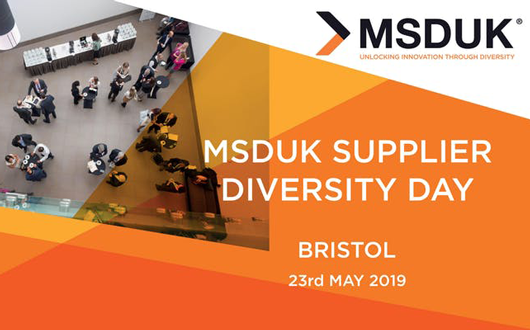 MSDUK Regional Supplier Diversity Day
Date

Thursday,23 May

Location

Engine Shed, Station Approach, Bristol, BS1 6QH

Time

12:30 PM

Price
MSDUK Regional Supplier Diversity Day- Bristol:
Join Engine Shed in its mission to create a more inclusive Britain – head to MSDUK regional supplier diversity event in Bristol, in partnership with Engine Shed, to find out more about MSDUK's work and how you can be part of it.
Inviting early-stage start-ups as well as high-growth ethnic minority founders in and around Bristol and Bath to the first MSDUK Regional Supplier Diversity Event. The event highlights include:
Launch of 2019 MSDUK Innovation Challenge

Meet and connect with senior procurement leaders from global corporations, investors, community partners, industry leaders and entrepreneurs

Panel session with entrepreneurs and investors sharing their stories on growing business and raising investment

Workshop delivered by world renowned Business Coach, David McQueen, on 'Delivering a winning pitch'

Network with cross section of industry, corporate and business leaders
Event Highlight:
Workshop: 'Learn how to pitch your business idea and the art of storytelling' by David McQueen
Pitching is a key skill of every successful entrepreneur. Whether you are at the idea stage or have a fully fledged business, getting your ideas and business across is essential to success.
The purpose of this workshop is to help you:
Feel confident and create a compelling narrative when delivering a high stakes presentation

Fine tune visuals

Design the basic principles of your pitch

Understand the different kinds of pitches