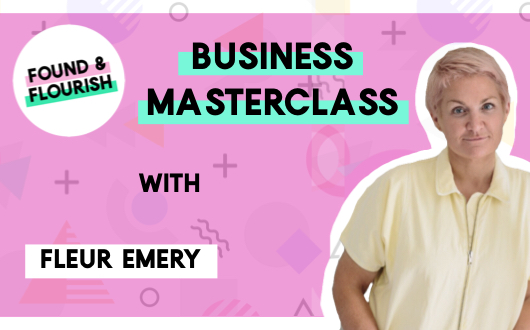 MASTERCLASS | Everything you need to know about starting a business | London
Date

Tuesday,03 Dec

Location

Time

11:00 AM

Price
Is this workshop for me? Do you have a business idea but don't know if it can really work? Maybe you have a plan that you believe is viable but don't know how to make a business model or set it up. Perhaps your business is already running but you are worried that you don't have everything in place, that there might be something important that you have forgotten. Workshop goals This one-day course will walk you through everything you need to know about starting a business from concept and viability to planning, developing and funding so that you have a roadmap that takes you from business-idea all the way to ready-to-launch.
Found & Flourish presents Everything you need to know about running a business with Fleur Emery, Start-up Expert, Columnist at Courier and Salon Host at The Wing.
At Found and Flourish we offer a safe space for women in business to learn the tools and techniques to build sustainable and profitable businesses so they can truly flourish in business and in life.Schedule Concept viability.
In this session you will learn how to scrutinise a business concept using market research, focus groups and SWOT analysis. In a hands-on jargon-free session you will learn how to thoroughly test your own business idea.
Business models / Expectations
This session will cover different business models and the reality of working in them, what they need to set up, the runway to profit and the potential wins.
Legal Obligations / reporting
This covers everything you need to know about registering your business with Companies House and HMRC, your personal tax liability and that of the business and your reporting obligations.
Writing a Business Plan and Cashflow forecast
This session will demystify the process of writing a business plan so you can feel confident about what you are writing and why. I will use real life examples and offer simple templates which will walk through in the session.
Funding
Finance options for early stage start-ups are limited and much of the general information about how to fund a business is useless in the first instance. This session will arm you with everything you need to know about the realities of funding a business at seed round and beyond.
The agenda:
11:00 - 11:45 Session 1
11:45 - 12:00 Break
12:00 - 12:45 Session 2
12:45 - 13:00 Break
13:00 - 14:45 Session 3
13:45 - 14:00 Networking (chats & hugs)