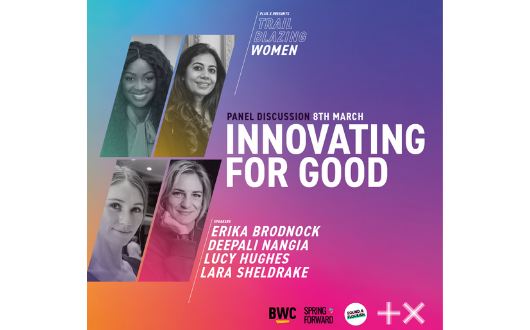 IWD | F&F + Plus X present: Trailblazing Women | Innovating For Good
Date

Monday,08 Mar

Location

Time

12:00 PM

Price

Event Price

Pay-as-you-feel donation
Join us for an inspirational lunchtime panel with three incredible women who are on a mission to create positive change
To mark International Women's Day and Women's History Month, Found + Flourish has partnered with Plus X to curate a month-long series of events. Trailblazing Women celebrates the women in our business community that are innovating for social, environmental, and political good – in Brighton and beyond. Part of Spring Forward Festival 2021.
In this lunchtime panel discussion, we'll hear from three women that are blazing a trail within the innovation and technology space – sharing their own experiences of challenging the norm, how they came to work in their chosen fields, and what advice they would give to fellow women aspiring to innovate or create for the benefit of both people & planet.
INNOVATING FOR GOOD
It's taken a global pandemic to highlight the efficacy of female leadership, with many arguing that it's no coincidence that countries with women at the helm have had fewer infections and deaths.
In fact, studies have proven that women not only make better leaders, but also have a natural tendency to prioritise innovating for good. According to Harvard Business School, 'women are both conducting business in new ways, and ensuring that more and more businesses have a positive impact on people and the environment.' [Source: Impakter]
However, at the forefront of innovation is technology, where women are still grossly underrepresented:
3% of females say a career in technology is their first choice
78% of students can't name a famous female working in technology
5% of leadership positions in the technology sector are held by women
So, why is there such a disparity when it comes to gender within this space and how can we encourage more women to explore opportunities within innovation and technology?
This event will be an interactive talk, discovering personal stories of entrepreneurship, the challenges faced along the way, as well as actionable advice from the experts so that others can follow in their footsteps armed with the tools and knowledge necessary to go the distance.
WHO IS THIS FOR?
All genders and allies of women in the business community are welcome to join us. This event is for anyone who is inspired by the world of entrepreneurship, innovation and positive social impact.
AGENDA
12:30pm - Lunchtime Panel
13:15 - Q&A
13:30 - event close