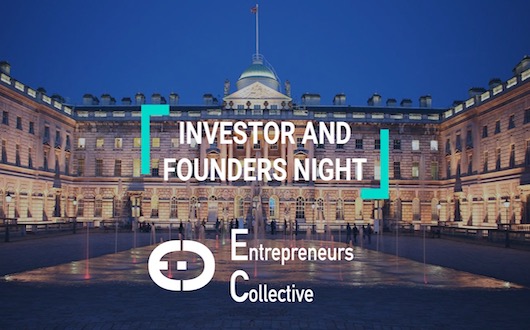 Investors and Founders Night - Entrepreneurs Collective
Host:
Entrepreneurs Collective
Date

Wednesday,23 Oct

Location

Fladgate LLP, 16 Great Queen Street, London, WC2B 5DG

Time

06:30 PM

Price
Do you believe in giving back? Here is an open invite to Founders and Investors who believe in community and working together to succeed.
This month at the Entrepreneurs Collective we are joined by Nick Telson, Founder of DesignMyNight, who will be giving an exclusive presentation to our members. Nick is fascinated by the entrepreneurial world, from marketing to brand building, and he will reveal his own story from plucky start-up entrepreneur to his £25m exit and transition to becoming an active start-up investor himself.
Following the discussion, there will be a 30-minute networking session for you to ask Nick any questions.
AGENDA
6:30 – 7:10 pm || Arrive and Socialise
7:10 – 7:15 pm || Opening Remarks by Michael Blakeley
7:15 – 7:20 pm || Intro to Keynote Speaker Nick Telson
7:20 – 7:50 pm || Chat with Nick Telson
7:50 – 8:00 pm || Introduction to VCs
8:00 – 8:50 pm || Peer-2-Peer Start-up Speed Networking – Elevator Pitch, ask for assistance from your peers and give back to others.
8:50 – 9:00 pm || Closing announcements
9:00 – 9:30 pm || Attendees are welcome to stay and continue conversations At the Entrepreneurs Collective we focus on bringing together quality Founders, Angel Investors and VC's from across the start-up eco-system. Organised by lawyer, founder, investor and advisor - Michael Blakeley - our events will bring together the UK's most impressive start-ups and seasoned investors. Join us for an exciting evening and make quality connections.
Please note that the network is for full-time tech Founders and Investors only. If you would like to attend you may register through Eventbrite for a ticket, however, this is subject to vetting.