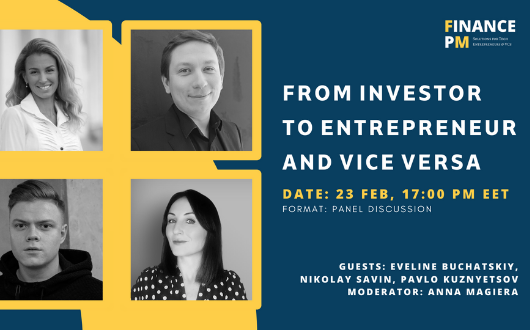 FROM INVESTOR TO ENTREPRENEUR AND VICE VERSA
Date

Tuesday,23 Feb

Location

Time

05:00 PM

Price
It's not uncommon for VCs to become entrepreneurs, and entrepreneurs turn into VCs. How and why does it happen? Does being a former entrepreneur make you a better investor? The Finance PM team has invited great entrepreneurs and VCs to find it out: Eveline Buchatskiy (airSlate), Nikolay Savin (Setapp), and Pavlo Kuznyetsov (Pragmatech). We'll discuss why they decided to switch sides, how challenging it was, and whether an investment background helps build a successful startup. Read more and register: https://bit.ly/3jQEFYf
Once becoming a part of the venture industry, it's not that easy to give it up. However, there are many examples when VCs make the jump to entrepreneurs and entrepreneurs turn investors. Both parties have a lot to bring to the table. The skills might be different, but they are complementary and help get a much broader vision. The Finance PM team decided to sit together with some great investors and entrepreneurs and discuss these transitions, pitfalls, and pearls from different perspectives.
Guests: Eveline Buchatskiy (airSlate), Nikolay Savin (Setapp), Pavlo Kuznyetsov (Pragmatech)
Moderator: Anna Magiera
Topics to discuss:
What is the most significant difference between being a part of the investment team and a startup member?
How does an investment background help build a successful startup?
How does being a former entrepreneur make you a better investor?
What are the challenges of the transition?
What do you like in your current role the most (compared to the previous one)?
Are there any biases you had to overcome?
If you could choose only one thing that you have to do till the end of your career, will it be more likely investment-related or startup-related?
Register here: https://bit.ly/3jQEFYf