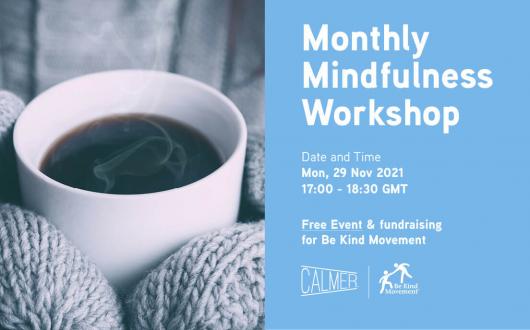 How to adapt your wellbeing practices for winter
Date

Monday,29 Nov

Location

Time

05:00 PM

Price
Join Calmer & wellness experts for our November Mindfulness event exploring ways we can look after our wellbeing as we head into the winter.
For many of us, as the evenings draw in and the weather turns, our wellbeing dips slightly as we adjust to the new winter season. At Calmer, we're dedicated to encouraging good mental health and wellbeing practices, whatever time of year. However, we acknowledge that it can be particularly difficult to keep up the same routine during the winter months.
With this in mind, join us for a special fundraising event on 29th November as we highlight the ways we can adapt our wellbeing practices during a time where we might be feeling a little less motivated. We're also running a special prize draw for individuals and businesses who donate to this event, full details below on the prizes!
Hosted by Founder of Calmer Tania Diggory, this event will also feature LA-based Consultant and Founder of FromSoil2Soul Devorah Brous, and Founder of Be Kind Movement Premila Puri.
Through various exercises and discussions, we'll be sharing evidence-based insights and strategies on self-kindness, Mindfulness, Emotional Intelligence and self-care – all of which will provide you with a toolkit of practices to support and nurture your mental health this winter.
Full event schedule:
17:00: Welcome and Mindfulness exercise led by Tania Diggory
17:10: Grow through the seasons and prevent burnout, with Devorah Brous
17:30: Emotional intelligence tools, with Tania Diggory
17:50: Be Kind Movement presentation and interview, with Premila Puri
18:20: Intentions exercise led by Tania Diggory
18:30: Event ends
Alongside learning a range of empowering outcomes to support your mental health, we'll be raising funds to support Be Kind Movement's Kindness in Schools programme, teaching young children emotional intelligence and resilience skills. As always, our Monthly Mindfulness events are free to attend, however if you choose to donate to this wonderful cause, you or your organisation will be entered into an exciting prize draw!
For individuals who donate between £5-10, the prizes include:
Free access to Calmer's Self-Kindness Ecourse: www.thisiscalmer.com/mindfulness-guides-and-ecourses
 A free copy of Calmer's Working from Home Guide plus Calmer Calendar Worksheet: https://www.thisiscalmer.com/wfh-guide
Access to an exclusive screening of Be Kind Movement's short film "ITSY"
For businesses who donate £50, the prizes include:
 A 1-hour mental health webinar for your organisation, courtesy of Calmer
Marketing for your business in December across Calmer and Be Kind Movements social channels
Access to an exclusive screening of Be Kind Movement's short film "ITSY" for your organisation
To kickstart the fundraising, Calmer will be donating £100 as a brand and we encourage you to donate whatever you are able to at this time! Find out more about the wonderful Be Kind Movement and all their inspiring initiatives here: www.bekindmovement.co.uk.
We hope you will be joining us for this special event!
Contact us at valerie@thisiscalmer.com to inform the Calmer team of any accessibility needs.
About Calmer
Calmer is an award-winning training organisation that empowers entrepreneurs, freelancers, and business teams to nurture good mental health and wellbeing through workplace training, digital products, and events. We believe that a happy mind makes for a happy business and promote the message of good mental health in all that we do: thisiscalmer.com | @thisiscalmer
About Be Kind Movement
Be Kind Movement's (BKM) promotes the development of emotional intelligence skills in children and young people through the education of Kindness. Using the visual medium of film, BKM is committed to providing learning opportunities through their flagship Kindness in School Programme (KISP) that educates the hearts and minds of children and young people. Find out more: bekindmovement.co.uk | @bekindmovement1
About Devorah Brous
Devorah Brous (she/her) is a TEDx speaker, an urban homesteader, a frontline community organiser, and the creator of Fromsoil2soul. A nonprofit Founding Executive Director for nearly 20 years, today she is a consultant, writer, and ritualist that is deeply rooted at the nexus of burnout and renewal. She guides individuals and institutions through transformative online Sabbaticals that focus on regenerative practices for the inner and outer landscapes. Check out her TEDx talk about the Sabbatical: We're burning out. What can we glean from nature to regenerate fromsoil2soul.com | @dev.brous