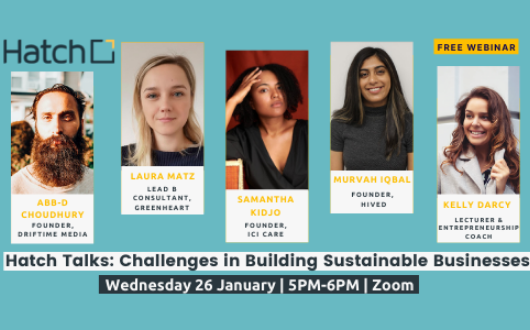 Hatch Talks: Challenges in Building Sustainable Businesses
Date

Wednesday,26 Jan

Location

Time

05:00 PM

Price
Join us for our first Hatch panel , where experts will cover the challenges of putting sustainability at the core of your business.
As a small business in the UK, what does sustainability actually mean and how do you make your business more sustainable?
Sustainability plays an increasingly important part of any modern business, but what are the main challenges and things to consider for small businesses that's keen to put sustainability at its core, given a backdrop of a fast changing environment of sustainability politics?
In the first of a new series of Hatch panel discussions, we'll cover how to go about deciding on the ethics and values of an organisation at an early stage, through to how you grow your business in a scalable fashion both financially and in terms of impact. Crucially, we'll also be discussing how you turn that impact into a powerful narrative around the difference you're making as a business.
We'll hear from an expert panel that includes founders like Samantha Kidjo, Murvah Iqbal, and Abb-d Choudhury, for whom sustainability is at the core of their business, as well as sustainability experts Kelly Darcy, founder of the Centre for Sustainable Fashion and B Corp leader Laura Matz, who accompany and guide others in their sustainability journey. They'll be sharing their valuable insights into the challenges they faced in their respective industries plus offer practical advice and guidance on how to overcome them.
Whatever stage your business is at, if having an impactful sustainability business is part of your mission, you'll walk away with practical examples of how to put sustainability at the heart of your business, understand the true cost of sustainability, and be able to weigh up the differences and benefits between radical, fast change and incremental change.