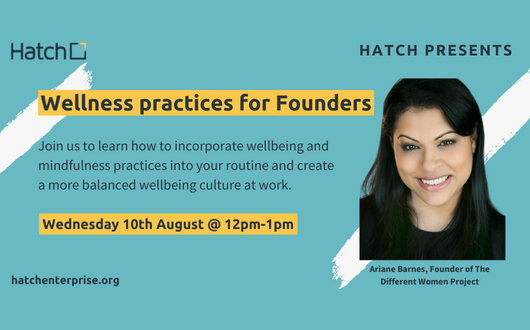 Hatch Presents: Wellness practices for Founders
Date

Wednesday,10 Aug

Location

Time

12:00 PM

Price
Join us to learn how to incorporate wellbeing and mindfulness practices into your routine and create a more balanced wellbeing culture at work.
We understand that as a Founder your schedule can be super packed but taking some time to take care of your wellbeing and practise mindfulness is essential for success! We are here to help you incorporate this into your routine.
Meditation and mindfulness are not just about sitting around with your eyes closed- there's a lot more to it and a great deal to gain from understanding how YOU are at the centre of it ALL. That GLOW you see around leaders is called 'inner radiance' and it's right there waiting for you to activate it.
Embody peace & power at work, acknowledge and understand your triggers as an entrepreneur and come away with a tool-kit of mindfulness and embodied practical solutions towards building a unique, personal daily routine, maintaining a work-life-balance and managing stress and overwhelm.